Alex Yeliseenko

Member
Posts: 1118
Joined: 25 Jan 2006 15:40
Location: REPUBLIC OF SIBERIA
Hello!

Who knows about operations of the Bulgarian tank brigade in 1944-1945? Its losses, receipts of new technical equipment?

Regards
---
Larry D.

Financial supporter
Posts: 3807
Joined: 04 Aug 2004 23:03
Location: Winter Springs, FL (USA)
Alex Yeliseenko wrote:Hello!
Who knows about operations of the Bulgarian tank brigade in 1944-1945? Its losses, receipts of new technical equipment?
Regards
For the operational history of the Bulgarian 1st Armored Brigade 1944-45, go here:
http://www.axishistory.com/index.php?id=7767
--Larry
---
dibo

Financial supporter
Posts: 362
Joined: 25 Jun 2004 10:10
Location: Sofia, Bulgaria
Alex Yeliseenko wrote:Hello!

Who knows about operations of the Bulgarian tank brigade in 1944-1945? Its losses, receipts of new technical equipment?

Regards
I do. Will answer in Friday.
---
dibo

Financial supporter
Posts: 362
Joined: 25 Jun 2004 10:10
Location: Sofia, Bulgaria
Armoured units in the Bulgarian army in September 1944 consisted of 1 armoured brigade (97 Pz IVG and H, 36 LT-35, 10 LT-38, 20 Sd. Kfz. 222 and 223) and 2 assault-gun "drujina" (old bulgarian term for Bn.) (55 Stug 40G).
In the interior (Sliven) two training companies were stationed, belonging to the Armoured Brigade and armed with the old tanks (14 L-3/33, 6 Vickers 6 ton, 40 R-35).
The police had 19 H-39.
The deployment in 09-11.1944 was: the brigade and 2nd Assault gun bn. within 2nd army, 2nd Assault-Gun Bn. in 1st army.
Losses:
09-11 - 20 tanks, 2 recon vehicles, 4 StuGs written off.

In December 1944 for the newly formed 1st army wihtin the 3rd Ukrainian front an armoured drujina was formed with 22 Pz-IV and 3 SdKfz 222 and 223. Until 05.1945 a number of vehicles were captured or received from the Soviet army - 1 PZ-IV, 4 Stug-40F and G, 1 Turan I, 1 JgdPz IV/70, 4 "Hetzer", 1 StuH-42G, 2 Semovente Da47/32, 15 Pz V D2, A and G (Pz V did not participate in combat action) and included in the drujina (later also in the newly created assault gun unit within the army).
Losses: 01-05.45 - 11 tanks, 6 Assault Guns damaged and repaired.

14.03.1945 - 65 T-34 supplied in Bulgaria.

Source:
Bulgarian Armored Vehicles, 1935-1945 by Kaloyan Matev Publisher: Angela (November 2000) ISBN: 9549058778
---
Askold

Member
Posts: 1828
Joined: 23 Mar 2002 08:30
Location: Ukraine
Bulgarian panzer crews: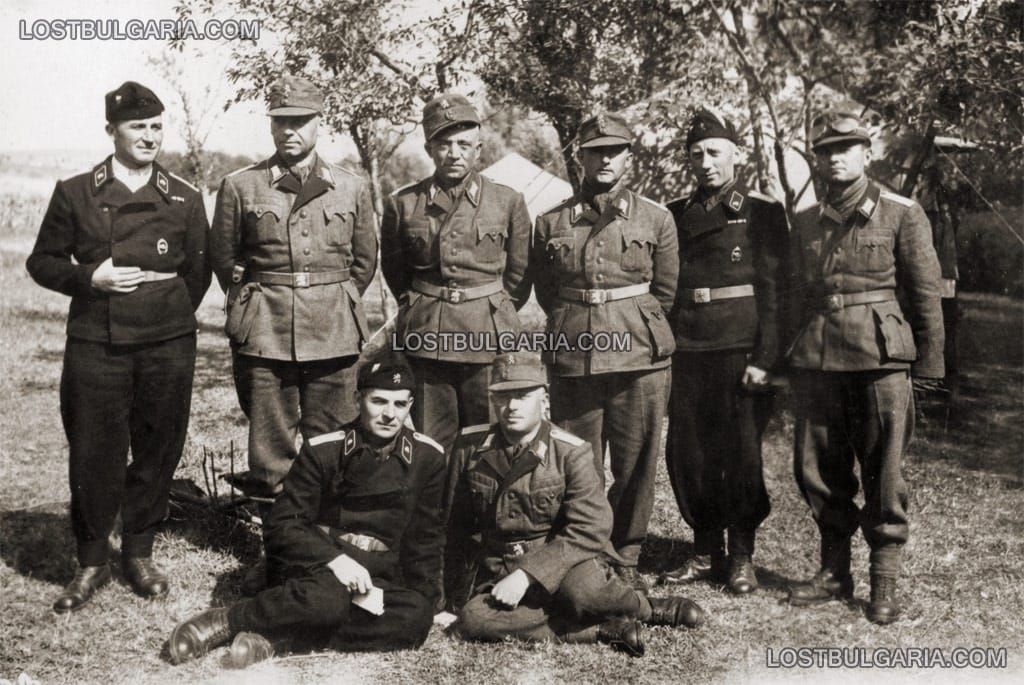 Many more interesting images at this site:
http://www.lostbulgaria.com/?cat=211&paged=26
---
Theodor

Member
Posts: 5
Joined: 10 Nov 2004 21:28
Location: Bulgaria
Not really crews. The "tank unit" incorporated several sub-units: tanks unit, assault guns, artillery unit, etc. These are the sub-unit Commanders and the Commander of the whole unit. The HQ officers.
---