Peter89

wrote:

↑

15 Feb 2021 18:32

I think you are right about the SAM project, but it was also unlikely given that the population as well as the decision makers were fascinated by the idea of revenge instead of the effective defense. So the most resources and best minds went to the Vergeltungswaffe programs instead of the SAM programs. If there was any in an advanced stage?

I am not familiar with any German SAM projects, so if you can help me out with that, I'd really appreciate it
The Germans had about a half-dozen SAMs in development. I'll list them with a few comments.
Wasserfall. This was the only supersonic one and was based on the V-2 / A-4. While some test shots were made, and at least a few were tried with joystick CLOS control, US and Russian postwar testing of this missile proved it was a really poor basis for a SAM. It is unlikely that it would have worked any better for the Germans with further development.
Hs 117 Schmetterling. This is approximately an equivalent to the USN Gorgon missile program in development. Schmetterling was really too small to be a workable SAM at the time. Its size limited the range, warhead size, and room for a guidance system. There was consideration for using it as a large AAM from nightfighters but this never materialized. As a note, the USN in late 1944 fired a Gorgon III using CLOS guidance via a television link in the missile at an airborne target off Cape May, NJ, the first such test anywhere, and found that it was impossible to control the missile accurately using such a system as hand-eye coordination was too slow to deal with the closing speed of the missile. So, the German version would have needed something better than CLOS to work.
FR 1- 5 Enzian. This Messerschmitt design was based on the Me 163 airframe but much smaller. It had the advantage of having a large warhead (500 kg) that would have made it useful with command detonation in the lack of a working VT fuze. The USN Little Joe missile is a rough analogy. The limited range of Enzian would have made it marginally useful though.
Rheintochter R I and III. The Rheinmetall-Borsig entry. A two stage fairly large SAM with nose guidance by small airfoils. Of all the designs the Germans had this one came the closest to a workable missile. The biggest issue with it was once again limited range and altitude (20 to 27,000 feet or barely enough to reach US bombers).
A sort of honorable mention is the F25 Feuerlilie. This was a sounding rocket / missile that the developers mislabeled as a SAM to get funding for their research. It was never really intended to be a SAM.
The biggest drawback the Germans had was in guidance. They envisioned a number of systems but none of these actually materialized or were tested with the missiles they had.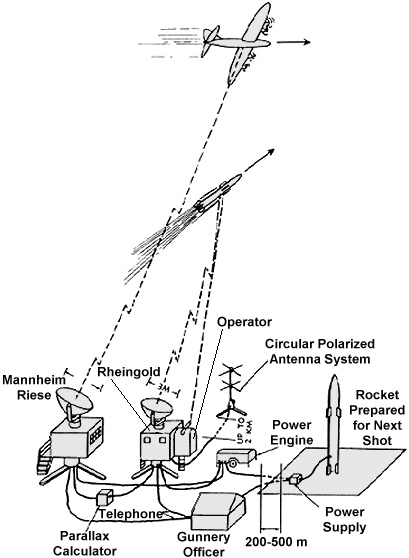 This one for Wasserfall is often used. It shows a system akin to the optical guidance system used with the SA-2 in Vietnam when that system faced heavy jamming. SA-2 using a similar system had about a 1 to 2% success rate. It is another indication that manual control of the missile to guide it to the target was really an unworkable solution at the time.