DavidFrankenberg

Member
Posts: 861
Joined: 11 May 2016 01:09
Location: Earth
About Vichy Régime, i appreciate Michèle and Jean-Paul Cointet's books. They are both wife and husband in life.
---
Loïc

Member
Posts: 836
Joined: 14 Jun 2003 03:38
Location: Riom Auvergne & Bourbonnais France
last GBM available
http://www.histoireetcollections.com/fr ... -n121.html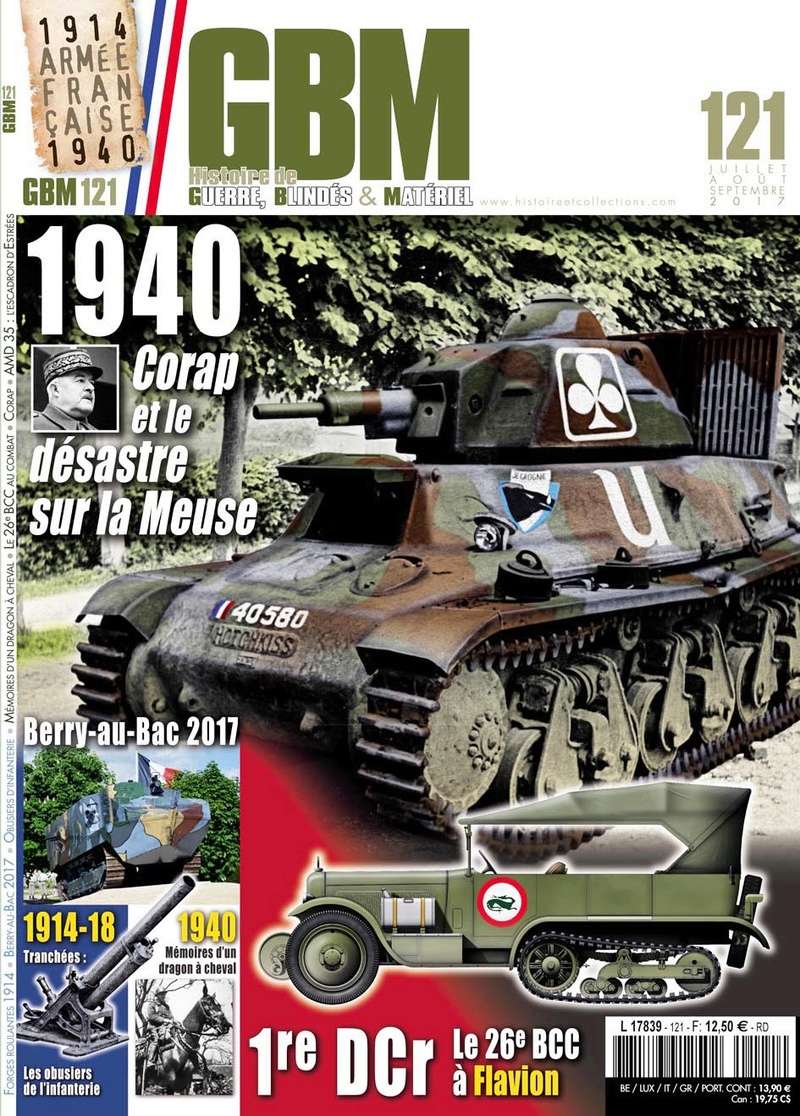 ---
chiangshan

Member
Posts: 23
Joined: 14 Apr 2011 03:43
Location: Vietnam
I'm looking for encyclopedia-type books about French weapons in WW1 and WW2 (especially infantry and artillery weapons). Do you have any recommendation?
---
Stanford9

Member
Posts: 261
Joined: 28 Jun 2009 11:30
Location: Central Paris, France
If I may... One or two reviews of my book Perilous Moon: Occupied France - 1944 The End Game.
It was such a lot of fun researching and writing it especially as I had such willing help from a number of you here on Axis History Forum. If you are looking for a WWII Occupied France read this might be for you:

"Stuart Nimmo, perspicacious journalist, assiduous historian, fine storyteller, and devoted son has given us a masterwork of rare images and gripping narrative. Perilous Moon Occupied France shows us World War II from both sides. It takes us into fighter and bomber cockpits, the front line, and the minds of those caught up in it..."​
Mort Rosenblum​
Author, Professor of Practice UA, Former Editor of International Herald Tribune, AP bureau Chief France, Africa and Southern Asia.

"The youg men who flew wartime bombers didn't deal in moral choices. They were the blunt instruments of national survival made flesh and blood.
One of them was a Scot called Neil Nimmo. He bailed out of a blazing Lancaster bomber over France in 1944 and went on the run in occupied territory. His son, Stuart Nimmo retraced his father's footsteps. What began as a family memoir is published as Perilous Moon, a facinating book that tells his father's story and that of the Luftwaffe pilot who shot him down.... Books like Nimmo's lift the veil on the untold stories of young men whose paths crossed in a violent nighttime encounter that buffeted their lives forever.
It helps us figure out not why they fought, but who they were.

Torcuil Crichton
Westminster Editor Daily Record

"The book is filled with lavish detail and twists and turns that are all the more sobering because the events were true.... Stuart Nimmo's experience as a documentary filmmaker shows in his storytelling and his inclusion of the parallel perspective of Luftwaffe pilot Helmut Bergmann, the man responsible for shooting down (RAF Lancaster) Q-Queenie. Perilous Moon is a rich and detailed history that reads with the intrigue and suspense of a spy thriller. The concurrent stories of Neil and Bergmann come to life with lavish illustrations and the inclusion of numerous personal photographs and documents…With detailed footnotes and extensive research, Perilous Moon is a must-read for any World War II history buff. "
Amber Burton
Review Product Spotlight

"Perilous Moon is a page turner that hopefully will be made into a major European movie. It is the true tale of real British and French heroes from World War II. It is so compelling because it has the intimacy of a personal experience. I was glued to the book from beginning to end... It is so well written that you are left with a vast love for the ability of young people to sacrifice and put up with incredible difficulties... a visual tale that is the best British movie you have ever read. It has danger, intrigue, beautiful women, brave men and women, scary parts and in the end a great love of life. This is the one book to read this summer."
Eugene Finley
Cinematographer Bolinas, CA

"The detail in the book, including scores of photos and maps, is remarkable. Apart from lengthy interviews with his father, Nimmo stumbled across another rich vein of material... (previously unpublished) insights into how the Luftwaffe night-fighter ace managed to pull off such a lethal frenzy of destruction.... What a story Neil Nimmo had to tell. And what a story his son Stuart has written."
​
Arnie Wilson
Journalist/ Editor HUFFINGTON POST

"Speaking personally, as a long time student of the air war, and a publisher of military history for 20 years, this is just my sort of thing."
Ian Drury
London Publisher and Author

"I wouldn't part with it for all the chocolate in Switzerland!
Stuart Nimmo wrote a fantastic book. What makes Perilous Moon so special, so ultimately wrenching (our author warns that "this may not make for comfortable reading at times"), is that it goes far beyond comforting narrative: this is the story of two young men, not one. With remarkable industry (and more objectivity than most sons of the so-called 'Greatest Generation' might be able to muster), Stuart Nimmo has researched the life of Helmut Bergmann, the Nazi ace who was only 24 when he (too was) shot down"​

Steve Donoghue
Managing Editor​ Open Letters Monthly Arts and Literature Review

"... Putting the stories together this way makes this a special volume among the many about the war.... (Bergmann's life story) is supplemented with many photographs and with explanations about the Luftwaffe and such things as the way the Germans used electronic countermeasures. Bergmann was only 24 when he died, and the author properly assesses him as just another of Hitler's victims."​​
​
Rob Hardy
Literary review, The Dispatch, Columbus Ohio

"A remarkable work of research and of memory by a son in an honest and beautifully illustrated attempt to understand what RAF bomber crews went through, and what it was that they were fighting: he discovers the complexities of fractured Occupied France and the deadly, but crumbling world of the Luftwaffe pilot who shot his father down. …"
​
​ Laurel Zuckerman
​ Paris Writers News

"There is every reason why this would make an excellent movie ..extremely well composed narration… not only opened a new window on France for me but pulled back the shades and opened the blinds that were intentionally closed by successive political leaders for the past sixty nine years as France struggled to keep a tight lid on the truth about how divided the population had become in the fog of war during the Nazi occupation.
...I only wish I had read Perilous Moon sooner and I honestly think it has inspired me to return to Paris and the surrounding towns of France with my new insight into activities of the resistance movement as seen through the eyes of Neil Nimmo. I now feel as though I have not seen Paris at all. Buildings used as safe houses for downed airmen and Nazi meeting places were silent about their past during my visits... Neil Nimmo's son Stuart artfully takes us through that journey of a lifetime..."
​
Joseph J. Gleason
20th Century Aviation Magazine​

"Shot down by Luftwaffe nightfighter pilot Helmut Bergmann, Nimmo parachutes into a field between Amiens and Abbeville, just as the Occupation comes to a bloody end. This book follows both Bergmann and Nimmo and is must reading for anyone even remotely interested in this period of history."
​
​ Larry Cox
​ Tucson Citizen

​"Normally, I'd rush my way though a book but this one however, was opened, read and re-read much like enjoying an outstanding meal; time and appreciation. Let's have another one? "
​
​ Stuart McAlister
​ Specialist Aviation Cameraman

This unusual, fascinating book cuts through the fog that shrouded the Occupation, and which continued to linger for decades to come."
Reviewer
​​ La Maison du Livre Aviation
​
" An intriguing and fascinating addition to history and photography collections, "Perilous Moon" is not to be missed."

​ Reviewer
​ World History Shelf



That's enough of that, though they did seem to like it!

Thanks for all the help and leads chaps there was many a 3 a.m. Writing session when I found your knowledge invaluable.

Stuart
www.Perilous-Moon.com
---
Loïc

Member
Posts: 836
Joined: 14 Jun 2003 03:38
Location: Riom Auvergne & Bourbonnais France
French text but largely illustrated about a totally neglected topic the French Air Balloon units
country of the Montgolfier France was the first Army to create a military Aeronautic unit the 2nd april 1794,
both 1st and 2nd companies were disbanded few years later by Bonaparte under the Consulate
in 1939-1940 in the
Armée de l'Air
10 9000 men were mobilised in 30 Battalions, 49 observation companies, 58 protection units, 11 Parks, 28 Parks Sections and 2 Repair Workshops, and sent to the Northeastern Front at Army Corps level or in the Interior protecting Paris and major industrial sites
L'AÉROSTATION de l'Armée de l'Air - 1934-1946. Les unités, les opérations, les matériels.
Bernard Palmieri
https://www.avions-bateaux.com/produit/lela-presse/3623
several sample pages here
https://www.avions-bateaux.com/uploads/ ... ac9541.pdf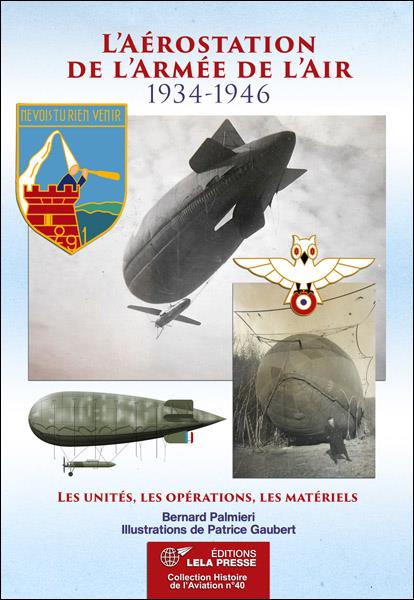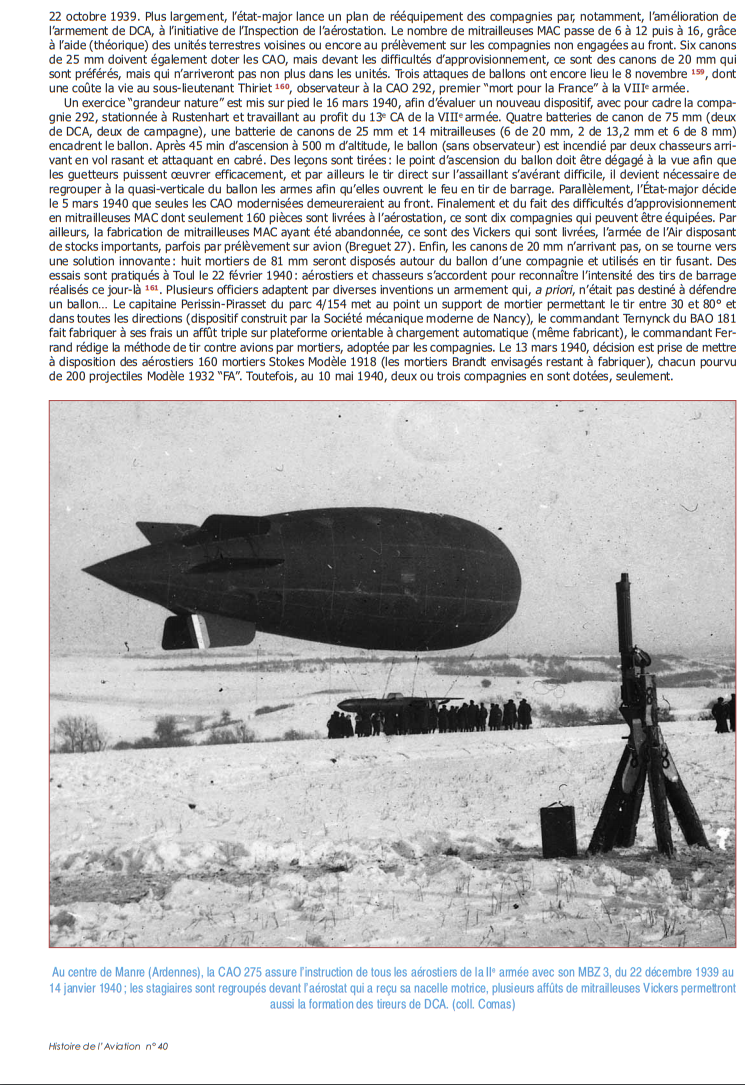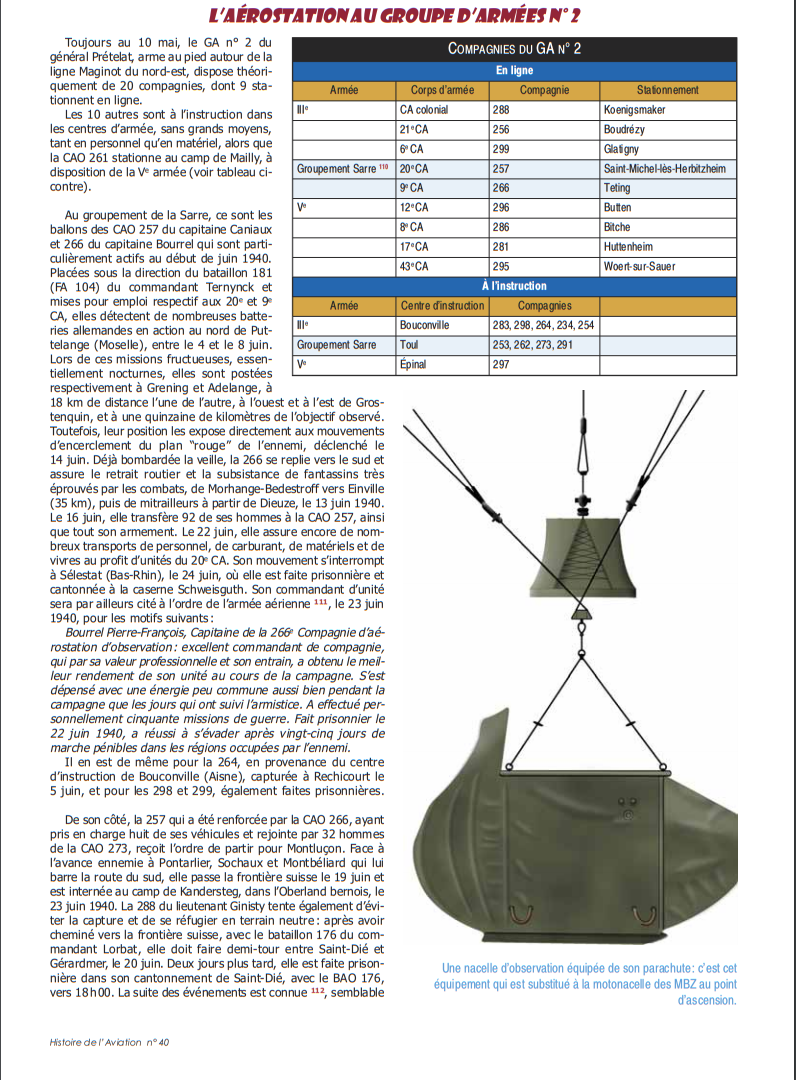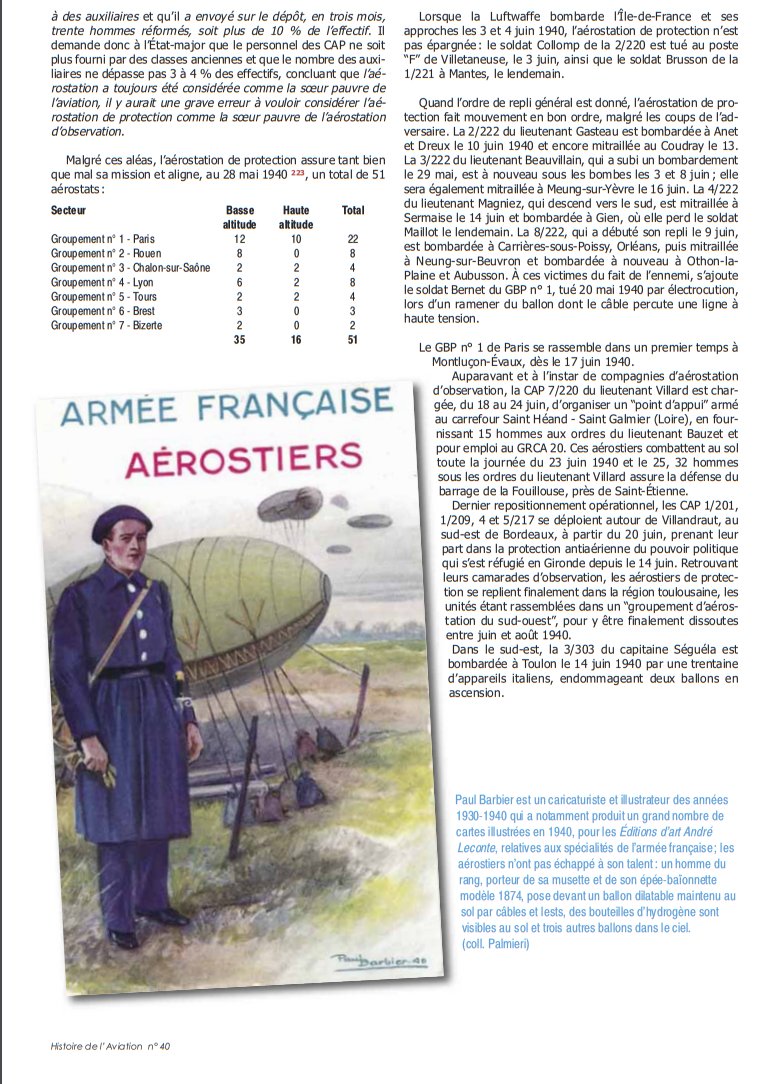 ---
Loïc

Member
Posts: 836
Joined: 14 Jun 2003 03:38
Location: Riom Auvergne & Bourbonnais France
Last
GBM 130
and
131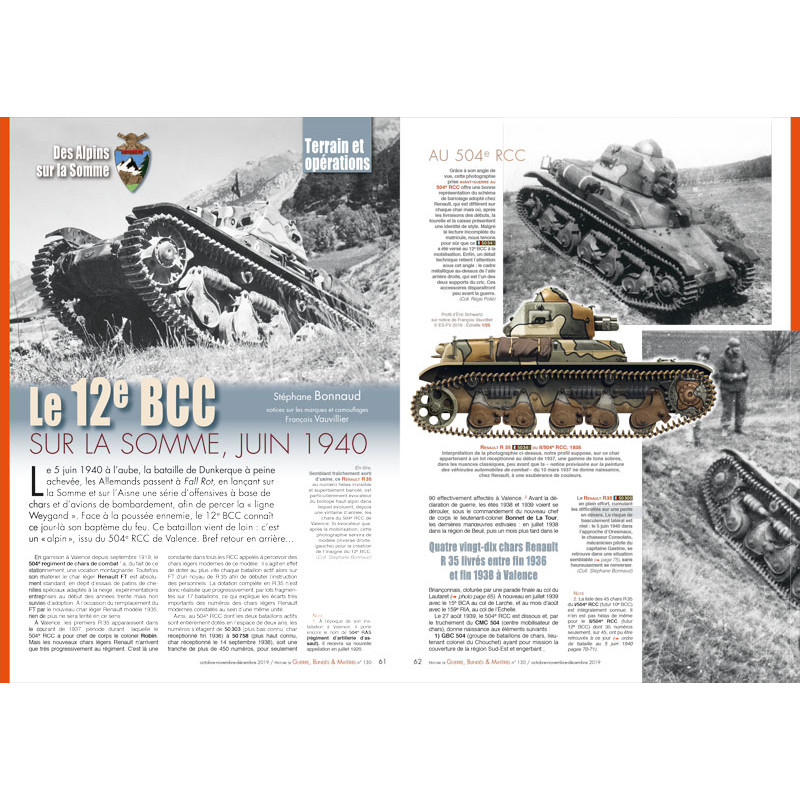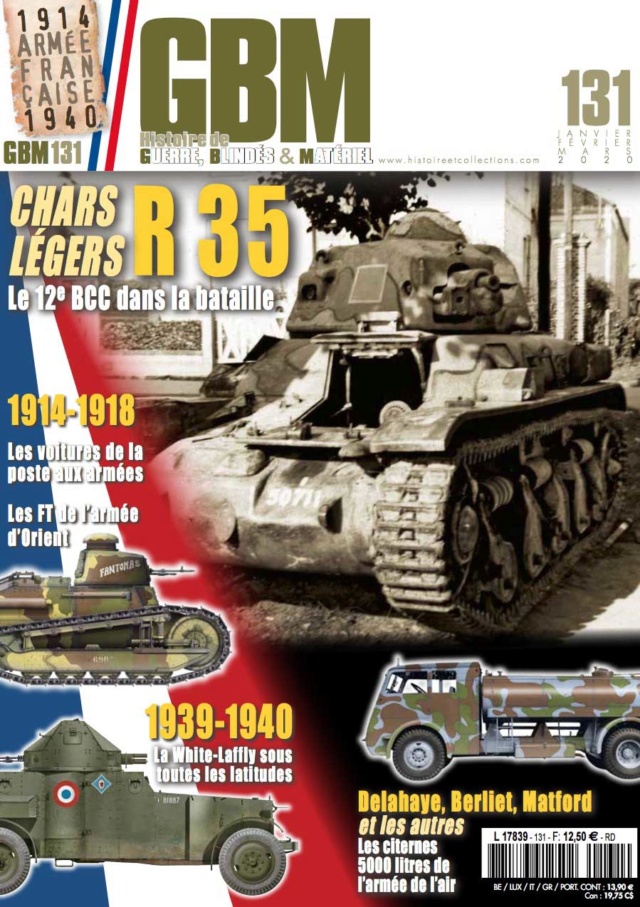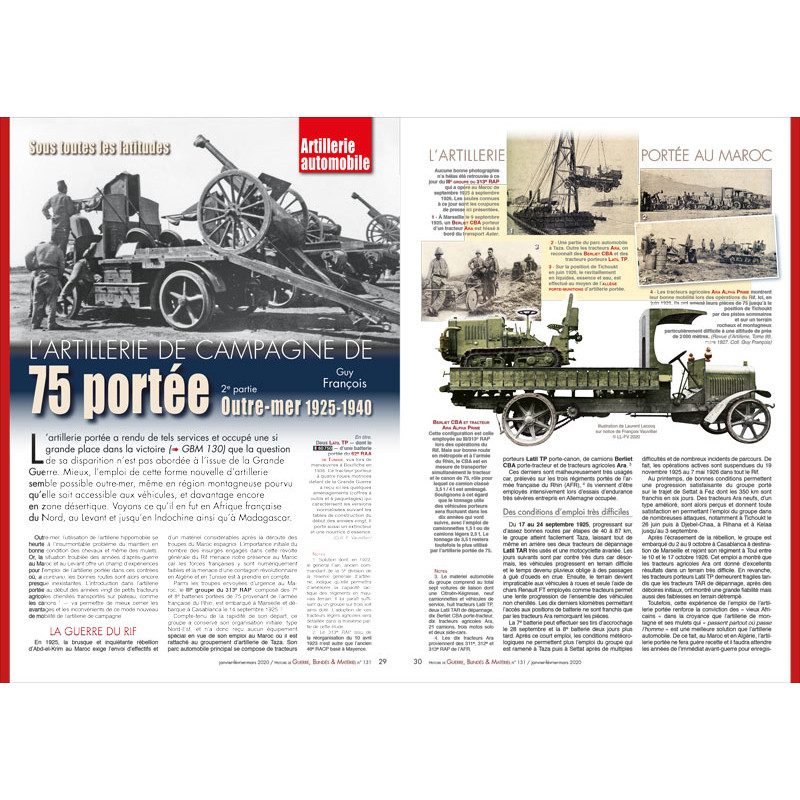 and
GBM 132
https://histoireetcollections.com/fr/47 ... teriel-gbm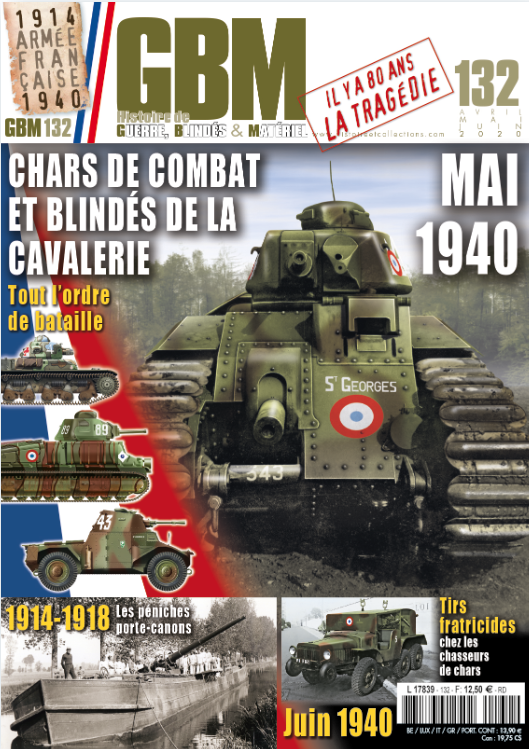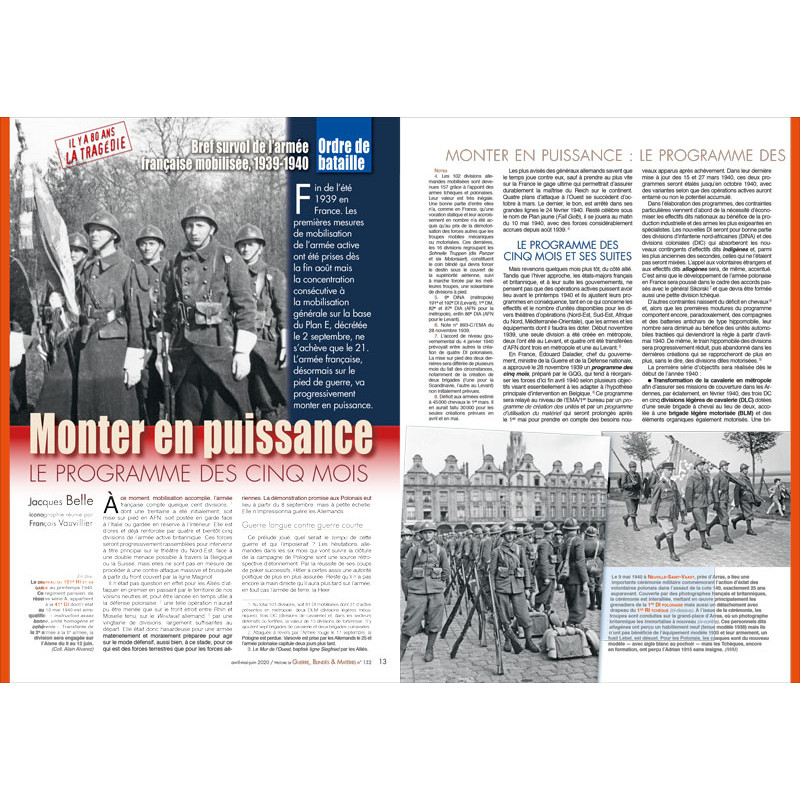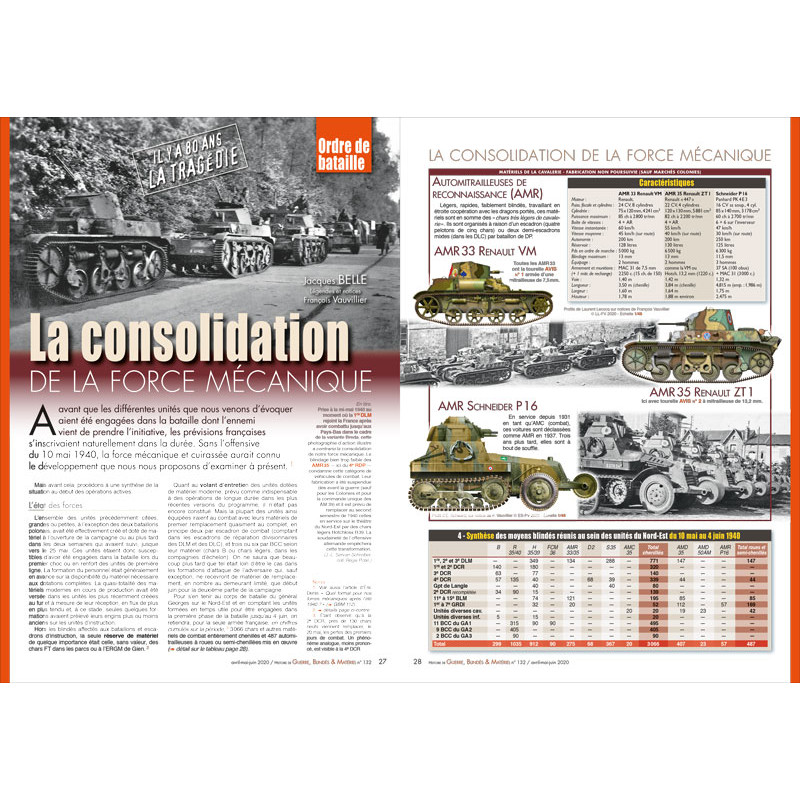 ---
Loïc

Member
Posts: 836
Joined: 14 Jun 2003 03:38
Location: Riom Auvergne & Bourbonnais France
---
Stanford9

Member
Posts: 261
Joined: 28 Jun 2009 11:30
Location: Central Paris, France
Perilous Moon, Occupied France - 1944, The End Game.
www.Perilous-Moon.com
---