Hello all,
After taking a long break , I will start a new build. I shall build an USN Destroyer Escort in scale 1/35.
The first Destroyer Escorts built in the US were ordered under Lend-lease for the UK in early 1941. The original 50 was expanded to 250 early in 1942 , but only 55 off 250 were actually transferred to the UK , all the others remained in US hands.
Of the 1005 Destroyer Escorts ordered by 1943 , only 563 were completed , including 56 ships completed as high speed transports (APD).
At first there was the Evarts Class or short hulls with a hull length of 289" 5' with a beam of 35" and draught of 10". These shallow draught saved many DE from U-boat attack.
Then there was the Buckley Class , Cannon Class and Edsal Class or long hulls , with a lenght of 306" with a beam of
36" 10' and a draught of 14". The difference between these ships was the power plant.
All these ships had 3 x3'/50cal guns , twin 40mm gun and up to 8 x 20mm guns, a torpedo tube was installed in the middle of the ship , later in the war these torpedo tubes were removed and extra AA was installed , especially on the ships in the pacific.
Later models of destroyer Escorts were the John C. Butler Class and Rudderow Class. Dimensions was the same as the long hull Destroyer Escorts , but they had a lower silhouette , Main battery was 2 5/'38Caliber guns , twin 40mm gun and up to 10 x 20 mm guns , some models had there twin 40 replaced by quad 40.
Camouflage on these ship was from one single colour , Navy Blue 5-N , up to a multi colour ship ,
ie , in Measure 32 ,Design 11D Light Gray 5-L, Ocean Gray 5-O , and Dull Black on all vertical places , Deck was painted in Black and Deck Blue 5-O.
The APD's were painted in a mixture of greens , brown and black.
The model I will be building will be 2m 665 x 31 cm or almost 9 feet by 1 foot.
I do not know exactly which boat I shall build , but it will be one of the long hulls.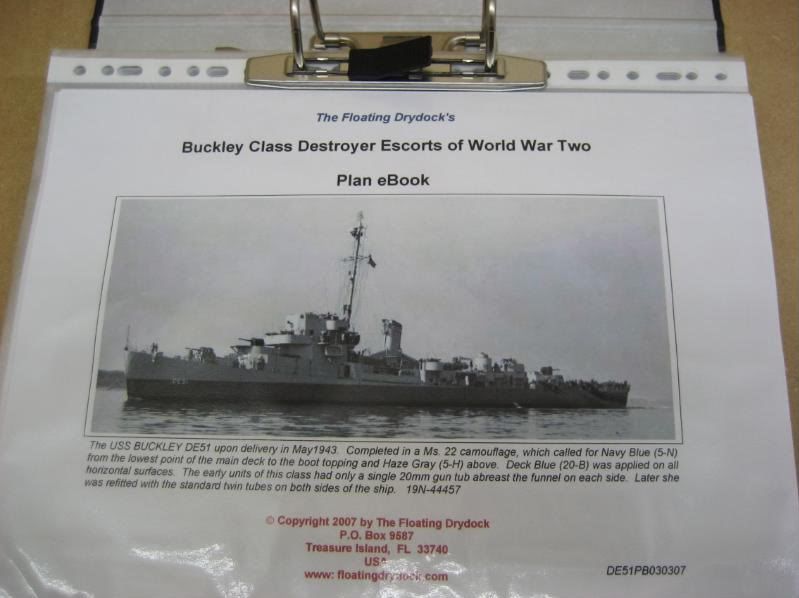 This is how the DE's look like ,more photo's will follow.
regards,
Himmelhund