DP Casper 72009 Java sea: from january to march 1942
Producer: DP Casper
item No.: 72009 decal set
Scale: 1/72
Type of review: In-box preview
Author: Tiso
Model courtesy of: me and my valet
!!!This is work in progress. I will update information on aircraft depicted in this set as i find info!!! It would be usefull if members could inform me so I can update and/or correct any possible mistakes i made with aircraft information.
This preview is cross posted from some other forum. Original which is identical can be found here:
http://www.weaponsofwwii.com/forum/view ... =22&t=6627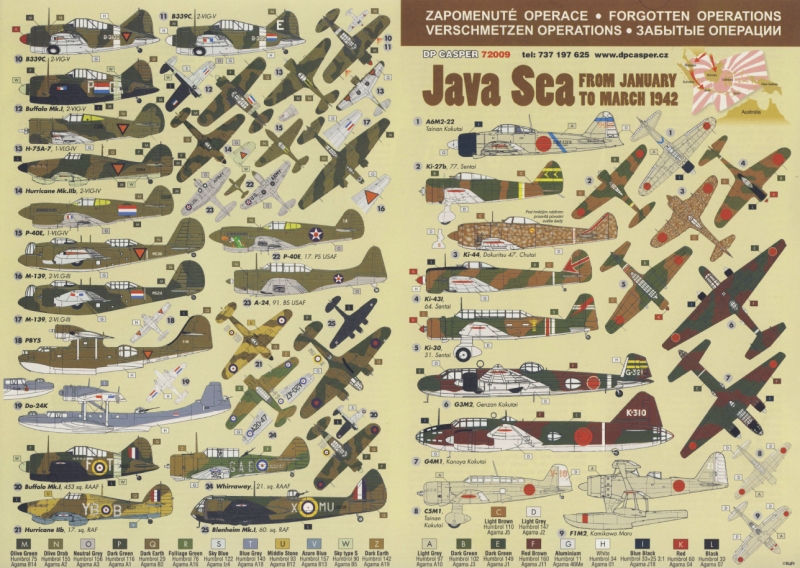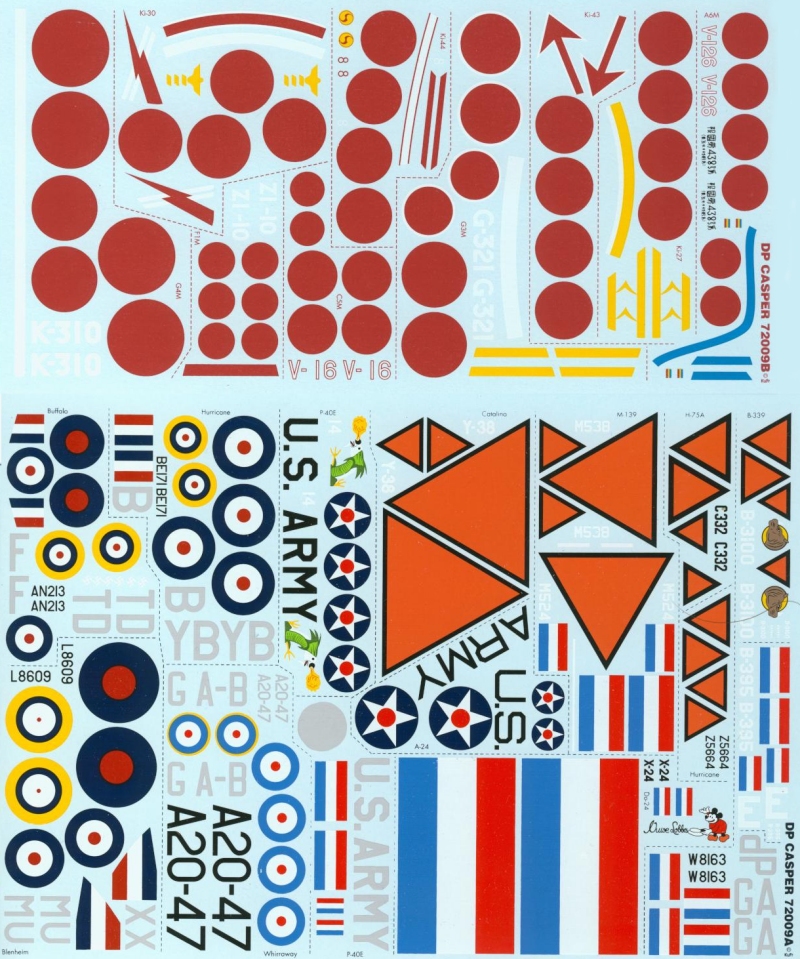 DP Casper is a aircraft decal set and display cases producer from Czeh Republic their online catalogue can be found here:
http://www.dpcasper.cz/
- from where the pic's are in this preview
All their decal sets are rather big and are not for individual aircraft types (as is norm) but for historical operations (from ww2 to modern) including multiple aircraft types from both sides of the conflict.
Their decals are nicley printed, in register, good colour consistency with thin film and in rather good colours (with exception of gray on allied sheet but that was corrected with additional errata sheet).
This set includes 3 decal sheets: 1 for allied aircraft marked as DP72009A, 1 for japanese aircraft marked as DP009B and one smaller errata sheet for allied sheet with grey registration codes and such. This provides decals for 25 aircraft. What does bugger me about this set is ommision of probably most important bombers aircraft types in operation on allied side i.e. Lockhead Hudson (either Mk IV operated by RAAF or later reinforcements of RAF Mk III's) and that of Ki-21. Colour callouts are in Humbrol and Agama ranges. They do not give differences between IJA and IJN light gray. So one should do well not to trust too much the colour callouts in instruction and to check the colours before painting.
Minuses on decals:
- hinomaru (sun) insignia on japanese aircraft should be in two tones (as per my friend who is japanese ww2 aircraft fanatic). Army hinomaru were slightly darker red (more meaty were his words) and navy were slightly brighter red. From what i gather hinomarus in this set are more of an army type.
- no small black serial numbers for leading edges of some dutch aircraft
- non inclusion of two most important bomber types that operated in the theater of operations (Hudson and Ki-21)
Minuses on instructions:
- colour call outs should be checked before painting. Some of the problems with camo schemes are listed in list of planes at the bottom
- they are quite vague on info on aircraft presented they give you only type and basic unit (which is why i compiled a list with info on planes below)
- some aircraft do not belong to this set i.e. were not in Java area of operations at given time - also mentioned in
list of planes at the bottom could also be considered as a plus
Pluses:
- comprehensive set for 25 aircraft of all airforces that fought in the area
- thin film, good colour consistency, printed in register and inclusion of errata sheet with all allied grey codes, inscriptions etc (as original are a tad too light)
- interesting subject rarely or never covered by other decal manufacturers of which some are AFAIK first time covered here (USAAF in Java, some japanese planes)
In my humble opinion:
Even tough not all aircraft are from given time and space i.e. (Java sea from january to march 1942) and a bit of confusion (at least to me) in RE colours this is well worth a buy for those modelers who read on campaigns in South East Asia at the beggining of the war with some rather exotic camouflages not available in other sets. If you are interested only in Dutch ML KNIL aircraft I would reccomend huge and comprehensive Flevo decals set FD72-012 ML KNIL 1939-42 as Martin bombers WH-2 and Curtiss H75A-7 lack their small registration numbers in black for wing leading edges.
Aircraft covered in this set with info that i managed to find on them:
I did a bit of a research on aircraft provided in this set as after reading Bloody shambles trilogy I had a rather sneaking suspicion that not all aircraft were operating in given time and space of the decal sheet (Java sea from january to march 1942).
Notes on sources: If not specificly included at the end of text the shorthened name for my 2 primary sources with page number is provided.
-Bh-Sh = Bloody Shambles volumes 1,2 and 3 by Christopher Shores, Brian Cull and Yasuho Izawa
-EFTP = Eyes for the Phoenix – Allied Aerial Photo-Recconaissance Operations South-East Asia 1941-1945 by Geoffrey J. Thomas which can be found here:
http://www.scribd.com/doc/156944140/Eye
1. A6M2 type 21 (V-126) of Tainan Kokutai IJN, Dutch East Indies, February 1942
Flown by NAP3/C Toshiaki Honda (profile in Aero Detail No.7)
2. Ki-27b of 77.Sentai 3rd Chutai IJAAF: pilot 3.Chutai CO Taii (capt.) Joshiro Kuwabara
in action dec.1941 over Malaya then based Thailand for action over Burma (marking same as in SpecialHobby 32040 Ki-27b kit but camo scheme is a bit different from top)
3. Ki-44 prototype series (No.4408) of 47. Dokuritsu Chutai 3. Shotai IJAAF, Saigon airfield French Indochina, December 1941 - January 1942
8 prototype built. Flown by Taii (capt.) Yasuhiko Kuroe Based Saigon for operations over Malaya, then in Thailand for operations over Burma
4. Ki-43-I of 64. Sentai IJAAF, southern Malaya, begginig of february 1942
Possibly aircraft of Sōchō (sgt.maj.) Choichi Okuyama which was shot down on 7. Feb. 1942 by Plt Off »Red« Campbell (Hurricane 258.Sqn) over Pelembang aifield (Bl-Sh Vol.2 page 66, photo page 67)
5. Ki-30 of 31. Sentai 2nd chutai IJAAF, Thailand, february 1942
based in Thailand for operations over Burma (photo Bl-Sh Vol.2 page 258). This unit previously operated over Malaya and NEI.
6. G3M2 (G-321) of Genzan Kokutai 2nd Chutai (possible also 3rd Chutai) IJN, Saigon airfield French Indochina, December 10th, 1941
Note on camo:
aircraft sometimes depicted as natural metal undersides and sometimes as lt.gray as in instructions
7. G4M1 (K-310) of Kanoya Kokutai 3rd Chutai IJN, Tu Dau Moi airfield French Indochina, late 1941 early 1942
Flown by CO of Kanoya kokutai Tai-i (capt.) Haruki Iki (he was buntaicho). He piloted this aircraft during attack on HMS Prince of Wales and HMS Repulse. This aircraft was transferred to 3rd Chutai from the 1st chutai. Note: lack of doors of the bombs bay (from secondary source: Wings Pallete site)
Note on camo:
aircraft sometimes depicted as natural metal undersides and sometimes as lt.gray as in instructions
8. C5M1 (V-16) of Tainan Kokutai IJN
Acctually of 22. Koku Sentai Shireibu Fuzoku Sentokitai (22nd Air Flotilla Headquarters Attached Fighter Unit) an as-hoc fighter unit established for operations over Malaya-NEI made up of detachments of 23. Koku Sentai (established for operations over Phillipines), which was itself made up from detachment of Tainan Kokutai and a detachment of 3. Kaigun Kokutai. (Both units participated with A6M2s, A5M4s and some C5M1/2's with some added from reserves). Unit operated over Malaya and Dutch East indies.
Note on aircraft:
Coulor profile on instructions says C5M1 but the profile itself is that of C5M2. Units operated both subtypes at the same time so it could be either, but I rather think it was C5M1 as Tainan Kokutai participated with 3 C5M1 as per my most trusted source:
http://www.j-aircraft.com/research/WarPrizes.htm
while this source says C5M2
http://games.dir.groups.yahoo.com/neo/g ... opics/3282
9. F1M2 (ZI-10) of Kamikawa Maru IJN
Unit operated over Malaya and Dutch east Indies.
On 19 December 1941 Japanese invasion forces were operating on the northern part of Borneo. Glenn Martin bombers from 2-VIG-I (based at Singkawang) and 1-VIG-I (based at Samarinda) attacked Japanese shipping off Miri during the morning. These were intercepted by F1M2s from Kamikawa Maru and four floatplanes intercepted the separate trios of bombers appearing at 15 minute intervals. Warrant Officer Yatomaru (ZI-16) and NAP 2/C Hosono (ZI-10) attacked and shot down the third bomber of the first flight. This was Glenn Martin M-571 of 2-VIG-I, flown by Lieutenant J. H. Groeneveld. One of the crew was being seen to bale out. They also claimed hits on a second bomber were they believed that the gunner was killed.
From:
http://surfcity.kund.dalnet.se/japan_hosono.htm
10. B-339C (B-3100) of 2-VLG-V ML KNIL, Singapore, early december 1941
Shot down on 12. January 1942 by Ki-27s of 12.Sentai over Singapore. Pilot 1st lt. August Deibel claimed 2 shot down but was shot down himself and bailed out slightly wounded. (Bl-Sh Vol.1 page 290)
11. B-339C (E, B-395) of 2-VLG-V ML KNIL
Captured by japanese at fall of Java. (Photo Bl-Sh Vol.2 page 440)
Note on camo:
markings of type introduced on 24. February 1942. Java Rhinoceros painted out.
12. Buffalo Mk I (GA-P, W8163) of 2-VLG-V ML KNIL, Java, March 1942.
This is ex No.21 Sqn, RAAF fighter which was taken over by Dutchmen at Singapore, captured by japanese at fall of Java (Photo Bl-Sh Vol.2 page 440)
Note on camo:
aircraft is in standard RAF Buffalo camouflage and markings with dutch national markings of type introduced on 24. February 1942 replacing RAF roundels only.
13. H-75A-7 (C.332) of 1-VLG-IV ML KNIL, Madioen Netherlands East Indies, December 1941
Aircraft of 1st.Lt.W.Boxman. On February 5th, 1942 aircraft was shot down, but pilot Sgt.Hermens survived (WingsPalette site) Shot down over Madoera Island by NA 1/ Tamekichi Ohtsuki (A6M2 of 3. Kokutai,1st Chutai, 2nd Shotai). Damaged totally destroyed in crash-landing pilot sgt.Hermens unhurt (Bl-Sh Vol.2 page 161)
Note on decals:
Small black numbers 332 for wing leading edges not present
14. Hurricane Mk IIb (Z5664) of 2-VLG-IV ML KNIL, Ngoro/Blimbing airfield Java, late february 1942,
1st march 1942 sgt. De Wilde force-landed this aircraft near Bedjonegare after being hit by ground fire during straffing attack on japanese landing force at Kragan/Rembang area on eastern Java (Bh-Sh Vol.2 page 303)
15. P-40E of 1-VLG-IV ML KNIL
Note on camo:
markings of type introduced on 24. February 1942. Standard US camouflage OD/NG
16. WH-2 (M538) of 2-VLG-III ML KNIL, Tjililitan airfield western Java, early february 1942
One of the aircrfat on film made on Kallang airfield (Malaya) at the begining of the war (a film link).
Cought in air about to land on Tjililitan airfield (with M537) by A6M2s (22. Koku Hombu = air flotilla) on 9.feb.1942 when returning from training flight. M538 was shot down and crashed near Bakasi. Entire crew of sgt.maj. L.M. Galistan lost. Other WH-2 (M537) returning from patrol over Christmas Island shot down crash-landed neat Tangerang, 2nd lt. Hagers crew surviving (Bl-Sh Vol.2 page169, photo page 169)
Note on decals
: Small black numbers 538 for wing leading edges not present.
Note on camo:
This aircraft should be in standard 2 green tone colour scheme
. Confirmation of 2 tone scheme is on the film link. Undersides could be Alumunium dope or dutch light gray check the link at the bottom of the page.
Some very good close up shots of this aircraft which also confirm 2 tone green upper camouflage scheme are in second half of this film about Dutch in Malaya (even if film title says Burma it is Kallang airfield Malaya in early december) from minute 6:00 to 7:04 i.e. bombing up of M539:
http://www.britishpathe.com/video/dutch ... burma-1942
17. WH-2 (M524) of 2-VLG-III ML KNIL
Written off after emergency landing due to engine failure
Source:
http://kw.jonker.co/index.php?option=co ... =2&lang=en
Note on decals:
Small black numbers 524 for wing leading edges not present
Note on camo:
markings of type introduced on 24. February 1942
18. PBY-5 (Y-38) of GVT-17 MLD
On 9 Feb 1942 on shipping patrol had to make emergency landing at Westervaarwater near Sourabaya taken in tow, damaged by it's tug and subsequently sank (Bl-Sh page 168)
Note on camo:
Camouflage should Donkerblauwgrijs (Dark Blue Grey) on top i.e. same as that of Do-24K and not dark earth
(source:
http://www.ipmsstockholm.org/magazine/2 ... 02.htm#MLD
1940-1945 )
19. Do-24K-1 (X-24, Dornier Werk Nr.785) of GVT-7 MLD, late february early march 1942
May 5th 1939 flown from Germany to Papendrecht as D-AYWI.
May 1939 shipped from Rotterdam to the Dutch East Indies on board of the »Blitar« entering service as X-24.
Autumn 1941 served with the training school at Morokembangan.
February 1942 became part of GVT 7 and was flown to Lake Grati.
March 2nd 1942 flown to Australia, arriving at Port Hedland for fuel.
March 3rd 1942 arrived at Broome just after the Japanese attack there had past. Made flights between Australia, Tanibar, Kai and Aroe for the NEFIS (Netherlands Forces Intelligence Service) and NICA
March 7th 1942 flown from Broome to Perth.
June 8th 1943 handed over to the RAAF entering service there as A49-6.
May 14th 1944 put into storage at No.1 Flyingboat Repair Depot at Lake Boga.
December 20th 1944 scrapped due to lack of parts.
Info and photos on
http://www.dornier24.com/
Note on camo:
markings of type introduced on 24. February 1942.
20. Buffalo Mk I (TD-F, AN213) of No.453. Sqn RAAF, Sembawang Singapore Malaya, november 1941, personal aircraft of Sqn.Ldr W.J. Harper
Posibly also aircraft in which F/L Tim A. Vigors DFC was shot down:
During morning of 13. Dec. 1942 patrol of 5 Buffalos under leadership of F/L Tim A. Vigors DFC (flying AN213) was sent to Ipoh where all landed safely and from there patrol of 6 aircraft (1 aborted and returned to Ipoh) to Butterworth. Patrol just landed there when Ki-27s of 1. and 11. Sentais appeared over the airfield on fighter sweep. Vigors took off and was shot down over Penang mountains. Fuel tank was hit, cought fire and pilot bailed out. Pilot F/L Tim A. Vigors (RAF 33554) was badly burnt on the legs hands and arms and wounded in the thigh. Was staffed by Japanese fighter pilots as he descended in his parachute but survived (Bl-Sh Vol.1 pages 133-135)
Note on camo:
Some reports say AN213 should be coded TD-Z
21. Hurricane Mk IIb (YB-B, BE171) of No.17. Sqn RAF, Mingaladon Burma in late January - late February 1942
This was aircraft of Sqn.Ldr Stone and was one of few in Burma to wear desert camo (hence type A reoundels above wings). This plane was used by Sqn.Ldr Frank Carey (CO of 135.Sqn) to shoot down Ki-27 (probably Sōchō (sgt.maj) Nagashima of 77. Sentai) over Mingaladon airfield on 29. January 1942 (Bh-Sh Vol.1 pages 270-272, EFTP page 28).
Aircraft was shot down by fighters (probably of 77. Sentai) on 26th February 1942 while on recce. mission over Sittang area flown by capt. A.D. Penton (army liason attached to the unit also a trained army cooperation pilot) who escaped injury and returned later to Mingaladon in an ox cart – (Bl-Sh vol.2 page 284, photo on page 262)
22. P-40E (white 14) of 17. PS (provisional) USAAF Ngoro airfield Java in february 1942,
flown by lt. Joseph. J. Kruzel one of most succesfull USAAF fighter pilots in SEA (photos Bh-Sh vol.2 pages 210, 213)
23. A-24 of 91.BS (lt.) 27.BG (lt) USAAF Ngoro airfield Java in february 1942,
Note on aircraft:
for history of this unit
http://forum.armyairforces.com/A24-Bans ... 59827.aspx
24. CA-3 Wirraway (GA-B, A20-47) of No.21.Sqn RAAF Malaya, late dec.1941
Aircraft was with 21.Sqn untill 02. Dec.1941. Then transfered to RAF Y Sqn (ex 151 MU) on 10. Jan.1942 Malaya. Aircraft was written off in march 1942 (info and photo
ADF serials page
, photo of
GAoB with 8.Sqn Hudsons in 1940 Malaya
)
25. Blenheim Mk I (MU-X, L8609) of No.60. Sqn RAF, Asansol, India, May 1942
far east early 1942. Reportedly lost on 17.05.1942. (photo EFTP page 17)
additional liks:
ML KNIL camo:
http://warbirdsforum.yuku.com/topic/565 ... izNMhi2iM8