Hi everyone,
You dream about a book on the French volunteers in English ? Pen & Sword made it :
Hitler's French Volunteers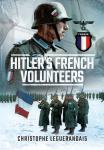 Author : Christophe Leguérandais
Pages : 144
Imprint : Pen & Sword Military
Published : 18 Mai 2016
ISBN : 9781473856561
Synopsis
:
From 1941 to 1945, a large number of foreign soldiers were incorporated into the ranks of the German army in order to compensate for the enormous losses suffered by the Wehrmacht, including thousands of French. Whether fighting against the Soviets on the Eastern Front, with the Afrika-Korps in Tunisia or fighting with the occupying army in France, these volunteers generally took the plunge to join the Germans with the authorization of their own government, even though there was never any 'formal link' to the Vichy regime. For the first time in the English language, this book provides details of the units' various insignias, along with rare and previously unpublished and personal photographs of the few surviving members interviewed by the author. As a result, a new vision of these collaborators emerges, allowing them to be regarded as adventurers or even nationalists. After all, despite being clothed in the "enemy's" uniform, the majority of these soldiers respected their oath of allegiance, often giving their lives in return.
About the Author
:
Living in France, Christophe Leguérandais has spent many years accumulating hundreds of rare photographs and documents, which portray his countrymen's involvement in pro-Nazi movements and militarily collaboration during the Second World War. He has written various articles on this topic for French books and magazines, as well as acting as an adviser for fellow authors and editors.
Links :
-
http://www.pen-and-sword.co.uk/Hitlers- ... ck/p/12012
-
http://www.amazon.com/Hitlers-French-Vo ... 1473856566
However, the publication dates are contradictory between Amazon (10 August) and P&A (18 May).