AJK

wrote:

↑

02 Oct 2023 15:36

I think that we are looking at two different officers. You refer to

nagykosztolányi

Mihálffy Győző (honvédelmi miniszteri tanácsos) 1854-1930. The officer for whom I am looking for birth and death dates is Ministerialrat Victor MIHÁLFFY von Mihálfy (in Hungarian:

mihálfi

Mihálffy Győző), who was promoted to Ministerialrat in 1900 and retired in 1906. Nagykosztolányi Mihálffy Győző was too young for both these promotion and retirement dates.

Regards,

AJK
The "miniszteri tanácsos" means Ministerialrat in Hungarian. He used the nobility title "mihálfi" just until 1908. In that year the King confirmed his old Hungarian nobility, and donated the new title "nagykoszolányi" to him.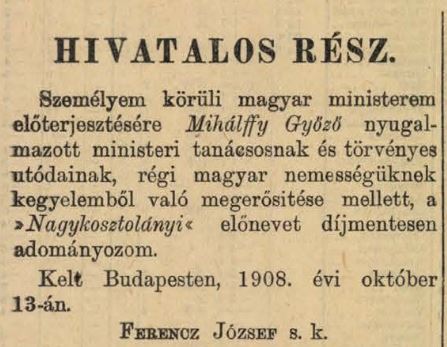 His funeral notice. Mentioned him as retired miniszteri tanácsos (Ministerialrat) of the Honvédelmi Minisztérium (contemporary DoD). And, as I mentioned above, Victor=Győző. In this period, they used always the Hungarian name forms (they even "translated" the first names of the foreginers e.g. the french wirter Jules Verne was Verne Gyula in Hungary.)