just

Member
Posts: 361
Joined: 26 Aug 2010 05:50
Hello
what do you think about this patch ?
why not black ?
is it WW2 ?
thanks for answers
cordially
Didier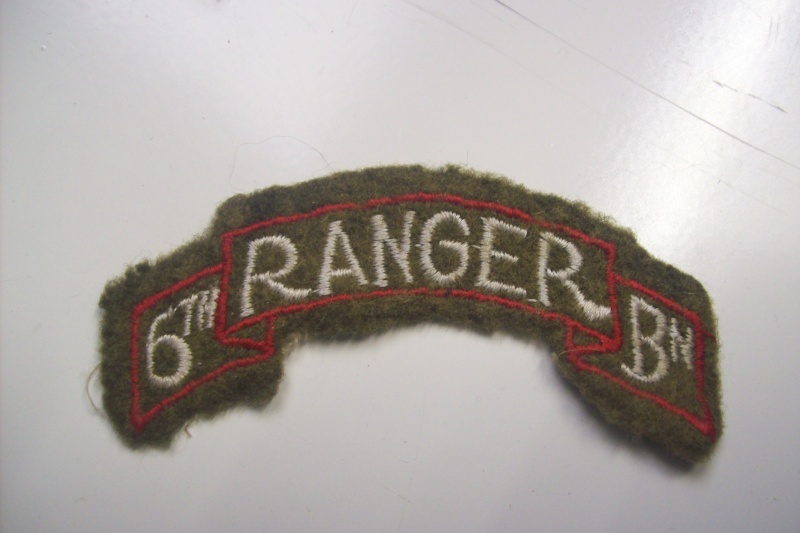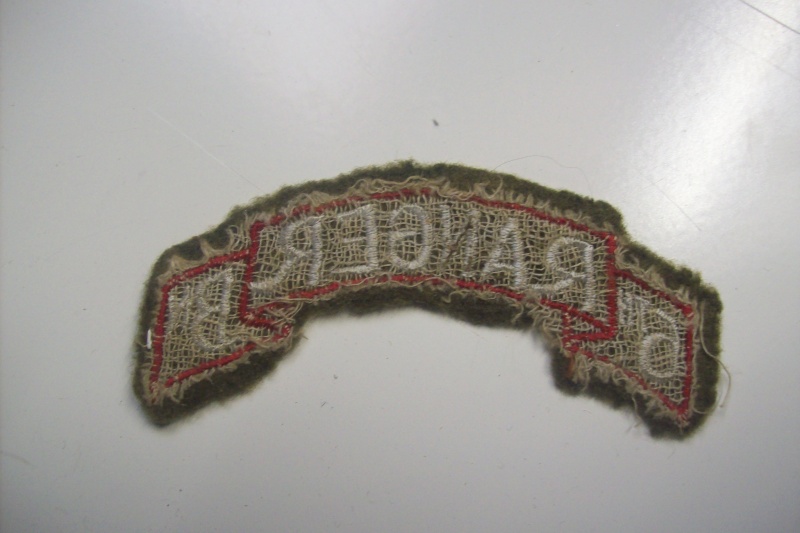 ---
Trackhead M2

Member
Posts: 1004
Joined: 24 Mar 2012 16:48
Location: North Utica, IL
Dear Big D,
I think it is a locally manufactured patch, the scroll arc style is more British than US. The official US Ranger Patch of WW 2 was the diamond with the word RANGERS in the middle. The US Rangers went through the British Commando School. So, as the 6th Rangers were a later War Battalion, it is not surprising that a locally manufactured patch like this would be made.
Strike Swiftly,
TH-M2
---
just

Member
Posts: 361
Joined: 26 Aug 2010 05:50
Hello
thank you Gentleman
cordially
Didier
---
John G.

Host - Militaria sections
Posts: 5215
Joined: 25 Apr 2006 18:56
Location: USA
Didier,
The 6th Ranger Bn. was formed on Sept. 26, 1944 at New Guinea when the 98th Field Artillery Batt'l was redesignated. After additional training, landed 3 days ahead of the main landings in the Philippines, securing 3 stragic islands located in the invasion zone to deny thier use to the Japanese.....then fought in Leyte area until withdrawn to participate in the Lingayen Gulf landings....then elements served as defense force for 6th Army HQs. Other elements served with Philippine Guerillas, and were highly involved in the Raid to free US POWs at Cabanatuan. After this action- elements continued to serve both as HQs defense and "normal" combat actions....(too many to detail)....until July 1st 1945 when the Batt'l was relieved of further combat operations having participated in 3 Campaigns and 1 combat assault. The unit served as Occupation troops in Kyoto until inactivated on Dec. 30, 1945.
I have no idear if it's legit.....looks good to me (but this is a VERY specialized area!)....I have seen an OD wool 6th Ranger Scroll that was sewn on an IKE jacket (definately good).....but couldn't see the back side (of course!)....if I remember right...this one is it's twin!
John G.
PS- Info. "gleaned from" ......
SHOULDER SLEEVE INSIGNIA OF THE U.S. ARMED FORCES 1941-1945
by Smith & Pelz (1981).
---
PWS347

New member
Posts: 1
Joined: 15 Nov 2012 15:52
Sir, I was looking for some history on the 6th Ranger Bn for my wife when I found your inquiry. My wife's father was in the 6th Rangers from its conception in WWII originally part of the Alamo group, he was also from rural texas. My wife has his 6th Ranger Bn patch from WWII when he was discharged in 1945. It looks like yours except the wool is black. He also had a triangle lacqeur pin that he wore on the uniform that states rangers. He was on the POW raid and subsequent operations till the end of WWII returning to the states in August 1945 for discharge as he had accumulated so much combat time.

Her brother has a photo ablum from that time frame with many WWII pictures which I have never seen, my wife has and just remembers the pictures of dead and captured Japanesse. He also came back with several Japanesse Swords which her brother has and Japanesse flag filled with signatures which she has mounted with her fathers medals and patches.

I hope this can be of assistanace.

John Bradley
---
just

Member
Posts: 361
Joined: 26 Aug 2010 05:50
Hello Gentlemen
thanks for all explanations
cordially
Didier
---
---
Return to "Other WW1 & WW2 Militaria"
Who is online
Users browsing this forum: No registered users