I would like to dedicate this thread to the early German heavy transport planes.
So far, I have been able to collect a few aircraft models which were used in limited numbers, but of course, everyone is welcome to share new types and infos. Because of the many variants and considerable confusion in sources, I use the numbers found in
Flugzeug-Typenbuch Handbuch der deutschen Luftfahrt- und Zubehör-Industrie
, their manuals (usually covering the commercial configuration) and the respective books by Nowarra and others.
Blohm & Voss Ha 139
Number built: 3
Empty weight: 10,300 kg
Max takeoff weight: 17,100 kg
Cruise speed: 280 kmph
Fuel capacity: 6560 l
Fuel consumption at cruise speed: 125l/100km
This particular beauty came in two basic versions: there was a seaplane version and a land based version. The original role of the aircraft was to carry post and other light items over the Atlantic. When the war broke out, the first two were used as military transports and the third as maritime recon, minelayer, etc. The considerable exchange possibilities between the fuel and cargo made it possible to utilize the aircraft in a long range heavy transporter role. However, its fuselage dimensions did not make it possible to utilize the plane for transport of heavy weapons, and so far, I have not been able to prove that the Ha 139 ever carried anything more heavy than a Ju 52. It used the Junkers Jumo 205 C diesel engine, which were able to provide a maximum of 4x600 PS, but in cruising it was actually 4x530 PS.
Blohm & Voss BV 142
Number built: 4
Empty weight: 9200 kg
Max takeoff weight: 15,700 kg
Cruise speed: 350 kmph
Fuel capacity: 6560 l
Fuel consumption at cruise speed: unknown, approximately 150l/100km
An improved version of Blohm & Voss Ha 139, also intended for airmail service. When the war broke out, the first two (built in 1938 and 1939, respectively) were utilized as maritime recon aircrafts, but enjoyed little to no success. The latter two were utilized as transport aircrafts in the Weserübung, and ultimately assigned to the Luftwaffe in September and November 1940, respectively. Sadly, the third aircraft crashed on 11/09/1940, and the maritime aircrafts were withdrawn from service because of their limited usefulness. The biggest long range / heavy transport achievement related to the BV 142 was to carry 30 fully equipped soldiers over a distance of 4000km. This plane featured the more powerful BMW 132H-1 engine, providing 4x800 PS at cruise and 4x868 PS at takeoff.
Blohm & Voss BV 222
Number built: 13
Empty weight: 27.000 kg
Max takeoff weight: 45.000 kg
Cruise speed: 320 kmph
Fuel capacity: n/a
Fuel consumption at cruise speed: n/a
The largest aircraft in World War 2 was the BV 222 Wiking. Originally designed as a transatlantic passenger aircraft, it was able to carry a staggering 26 passengers by day and 16 by night, which capacity in wartime turned into 92 troops or 72 stretchers, but of course, in this case, the range was limited. Obviously, the wide range of the cargo / fuel exchange, as well as the fact that this aircraft became subjected to unnumbered changes, makes fuel consumption and range calculation rather hard. However, it was definately able to fly from Hamburg to Kirkenes seven times. The trips were on average 2143 km in one direction; the load was nearly 9300 kg (to Scandinavia) and 32 wounded (back to Germany). Although the later variants saw some use until the end of the war (some planes even survived the war), the original configurations were used in various air transport and maritime recon missions. Despite its huge size and almost limitless cargo possibilities - basically anything could fit into it except the heavier AFVs and cannons - the BV 222 had the serious flaw of being a seaplane. It could take off from lakes, like the Bodensee - it required a relatively calm body of water at least 2 m deep and 1300 m long - but the problem was that there were no lakes where the supplies were needed the most, ie in North Africa. As for the deliveries to sea ports, the BV 222 was not competitive with the maritime transport. Nevertheless, it delivered cargo and personnel in the Mediterraneum as long as the Axis fought on both sides of the sea.
Heinkel He 116
Number built: 14
Empty weight: 4220 kg
Max takeoff weight: 7046 kg
Cruise speed: 270 kmph
Fuel capacity: 2650l
Fuel consumption at cruise speed: approximately 63l/100km at 6000kg takeoff weight
This is a very interesting plane, otherwise not in the same leage as the others. While it was designed as a very long range airmail service plane, which limited its takeoff weight (which is below that of the Ju 52), it was capable of covering great distances thanks to its amazing fuel economy. During the war, they were used as long range recon aircrafts, mostly engaged in aerial photography. However, its engines, the Hirth HM 508 J were seriously underutilizing the aircraft, providing no more than 4x240 PS. The lightweight construction also made it possible to land in a 310m long airstrip and takeoff from a 460m one. Although it was not able to carry much, its fuel economy and the distances it was able to cover made this aircraft, in my opinion, an outstanding one.
Focke Wulf FW 200 Condor
Number built: 276
Empty weight: cca. 14,500 kg
Max takeoff weight: cca. 22,700 kg
Cruise speed: 240 kmph
Fuel capacity: 2560l
Fuel consumption at cruise speed: 188l / 100km
Originally conceived as a luxury airliner, the Condor undoubtedly had a certain kind of aura that radiated power and a commanding presence. Although some examples found their way to Brasil, Denmark and Finland before the war, most were kept in Germany, where they quickly became the favorite personal plane to many top-ranking Nazis, including Hitler, Göbbels, Himmler, Ribbentrop and Dönitz. It is no wonder why Ribbentrop used this type when he visited the Soviet Union to sign the Molotov-Ribbentrop pact. At the outbreak of the war, however, the Condors got another role; Edgar Petersen was tasked to set up a maritime recon unit, which later became the KG 40. In the meanwhile, some other examples participated in the Scandinavian campaign. The airliner design had some serious shortcomings when it came to combat; it had poor serviceability (operational readiness was around 25%), required extensive and expensive maintenance, and it did not have proper protection. On top of this, the lightweight construction of the frame meant that the aircraft had a nasty habit of breaking its back on landing, when carrying heavy loads. Nevertheless, the handful of operational Condors wreaked havoc on the Atlantic, hence their nickname "the Scourge of the Atlantic", where they sank more merchant shipping than the whole German battle fleet, combined. Later on, some units participated in air transport missions to Stalingrad and in the Mediterraneum, sometimes even unlikely routes, eg. the Vienna-Dodecanese flight was quite interesting on its own. The aircraft was able to carry 26 passengers, which translated to 30 fully equipped troops, giving probably the worst conversion ratio in any transport planes – probably related to the luxury the passengers enjoyed. For the long maritime patrols over the Atlantic, the Germans placed 5x1100l fuel tanks into the fuselage for a total weight of about 4000kg. This payload, impressive on paper, was quite problematic in reality. The manuals prescribe a maximum landing weight of 19,000-19,500kg, which meant that the Condor should land with about 3000kg less than its maximum takeoff weight – in other words, there was a crucial difference between disposable cargo (like fuel, bombs or parachuted supplies) and carried cargo (like troops, weapons, supplies, vechicles). There was another factor to be taken into account; the lack of a loading ramp on the Condor made it largely impossible to squeeze anything into it that could fully utilize its carrying capacity.
Junkers G 38
Number built: 2
Empty weight: cca. 14.900 kg
Max takeoff weight: cca 24.000 kg
Cruise speed: 180 kmph
Fuel capacity: n/a
Fuel consumption at cruise speed: n/a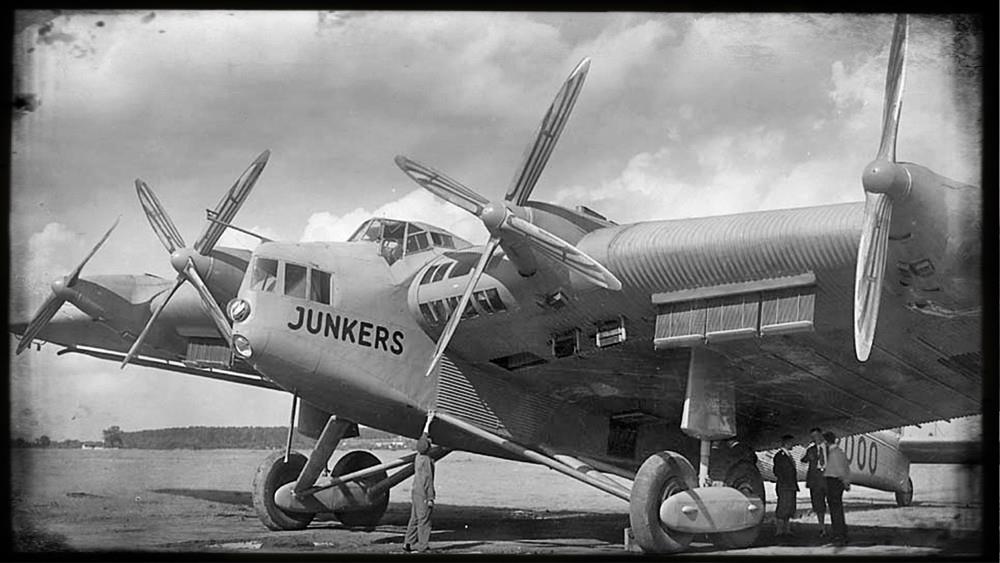 Concieved as a big commercial airliner, the G 38 saw some use before the war. Most notably, one of the planes was destroyed in 1936. The second one saw limited action during World War II; it carried supplies in the Scandinavian campaign, and later on, in the Balkans. Few if any possibilities existed for this plane, nearing obsolescence already. In its prime time, it was the largest passenger aircraft on the world, and it could carry up to 30 persons. It found its end by a RAF attack on Athens Tatoi on 17 May 1941.
Junkers Ju 90
Number built: 18
Empty weight: cca. 14.000 kg
Max takeoff weight: cca 23.000 kg
Cruise speed: 320 kmph
Fuel capacity: 3700l
Fuel consumption at cruise speed: 212.5l / 100km
This aircraft was originally designed as a competitor for the "Uralbomber" project, which never materialized. While the other competitor, the Do 19 was scrapped, the Junkers decided to continue development on this one. Although it never entered serial production, this plane was arguably the closest match for a heavy military transport in the Luftwaffe's arsenal. Circumstances, however, demanded that the Ju 90 began its career like many of its contemporaries, as a commercial airliner. In that capacity, it was able to carry 38 guests with considerable comfort. However, when the Ju-89 V2 broke two world record by taking 5000 kg cargo to 9312 m height and 10,000 kg cargo to 7242 m height, one might have wondered why this plane never got a chance in its original role, ie. a long-range, heavy bomber. The answer seems to be Udet's fascination with dive bombing, that excluded the Ju 90 from that development line. As the war progressed, and Germany found itself in need of long range airborne transports, the Ju 90s performed rather good in their new-found role, and the type was later developed into the Ju 290 and Ju 390. The type began its wartime career, as many other long range transports, in the Scandinavian campaign, where it carried men and supplies to the northern parts of Norway. Later on, at least one of the aircrafts, the J900005 made it to Iraq, and several others served in the airlift effort over the Mediterranean sea. As the German requirements for heavy military transport rose, they started to experiment with many novelties. Of which the most important was the so-called Trapoklappe, a loading ramp that was built in to V6 and V7. This alteration made the Ju 90 the heaviest cargo transporter before the Gigant. Tests were made to load anything that fits into its fuselage; this included light armoured cars, command vechicles and even half-tracks with PAKs or 2cm Flaks. 3 examples survived the war, but with the advent of the jet engines, their fate was ultimately doomed.
If I missed any types, please do add!