Anybody that read The Red & Green Life Machine will probably recall Surgeon-Commander Rick Jolly (the author) writing about coming across wounded Argentine soldiers that had apparently been shot in their feet during the Battle of Wireless Ridge:
"Others had been shot by their officers (so they said), in the feet, to prevent them running away."
(The Red & Green Life Machine, Century Publishing, 1983)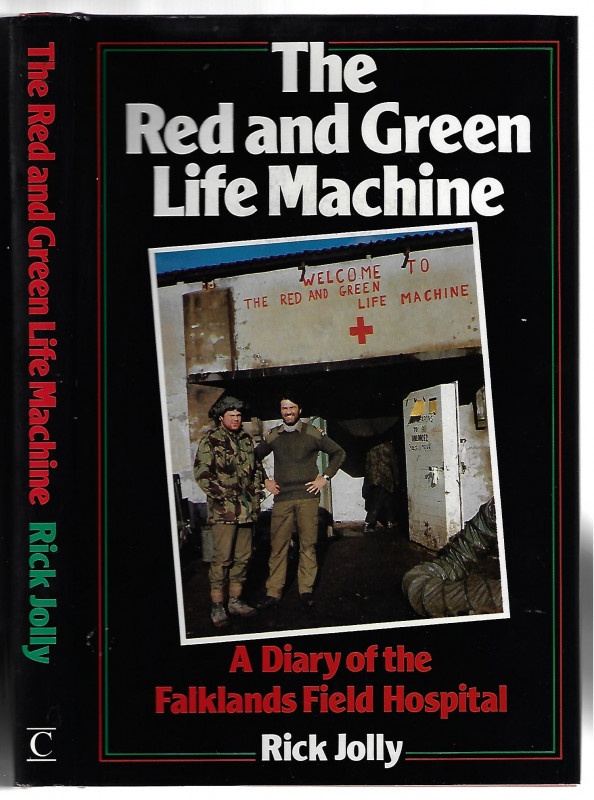 The wounded conscripts in question were actually men from the 7th Regiment's C Company that had retreated from Rough Diamond, taking cover from the intense British bombardment in their newly allocated positions, which were actually the dug outs already manned by the defenders from A Company 7th Regiment that were at the time holding Apple Pie.
Private Germán Bonnani from the 7th Regiment's C Company confirms this in an Argentinian documentary (See minutes/seconds 3.53-3.58) aired in 1984 and available on YouTube:
"Once they took B Company (Longdon) they headed towards our company (C Company, Rough Diamond). It was an entire afternoon of rain of mortar bombs, from 5pm till well into the night. We ended up bolting to A Company (Apple Pie) ... Once there we couldn't find any foxholes so we had to do with what he had. We found a hillock made of turf and so we stayed there. Many of the lads ended up with shrapnel in the sole of their boots. You had no choice but just to lay there with your feet sticking out. Shrapnel would hit the bottom of your feet or get stuck or penetrate the sole of your boots."
(Malvinas, La guerra que no vimos 1984. Documental completo y remasterizado en un solo video)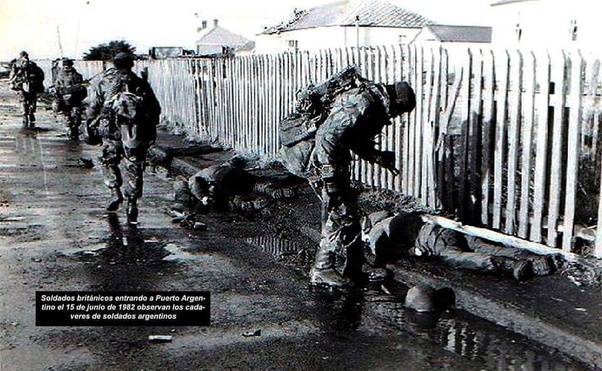 The photograph above is currently being circulated online as proof that Argentinian officers shot their own men when the fact is both men are not conscripts but Sergeant Eusebio Antonio Aguilar and Sergeant Edgar Néstor Ochoa from the 6th Regiment, killed by British naval gunfire on the morning of 14 June. (Source:
https://nomeolvides.org.ar/malvinas-la- ... r-evitado/
)
Second Lieutenant Aldo Eugenio Franco, a young platoon commander from B Company 6th Regiment, that fought Yankee Company 45 COMMANDO to a standstill on Two Sisters on the night of 11-12 June and thus prevented the Royal Marines from advancing to Tumbledown Mountain that night, confirmed several years ago who both fallen Argentinians are (Aguilar and Ochoa) in the Argentinian documentary Malvinas: Aún Esperan (2008):
"On the predawn darkness of the 14th (June) we retreated in a very organized manner. They were still shelling Port Stanley when we entered ...we got to the main street (Ross Road) and there we regrouped ... and there were two dead NCOs of the Regiment, Sergeants Ochoa and Aguilar, they were senior NCOs and they lay dead next to us. I believe it was one of the worst moments, especially because it is very important to have someone senior to look up to. To see that person dead was one of the saddest moments…"
(See minutes/seconds 7:58-8:30)
A 34 Años de la Guerra de Malvinas, Ayer Héroes PARTE 1 (See minutes/seconds 7:58-8:30)
During his 2007 visit to the Cemetery, the Duke of York was visibly moved by the sight of the returned helmet of Aguilar, and enquired as to how it was put there.
https://tn.com.ar/sociedad/hace-17-anos ... ma_952217/