I am inclined to believe that no more than 5 or 6 thousand people ever died in Treblinka, Sobibor, and Belzec combined. The facts simply do not support the claim that 1.5 million were killed.
- For a start, on the plan of Treblinka there is a well:
Now, we can also see on this map the burial pits surrounding the camp. Surely the well would have been contaminated surrounded by all these rotting bodies?
Now, let's take a look at the burial pits themselves. In
Belzec, Sobibor, Treblinka
, Yitzhak Arad says, regarding Treblinka:
"East of the gas chambers, and close to them, were huge ditches for burying the dead. The ditches were 50 metres long, 25 metres wide, and 10 metres deep""To save space, the bodies were arranged head to foot; each head lay between the feet of two other corpses, and each pair of feet between two heads. Sand or chlorine was scattered in between the layers of bodies"
Now, if we take the height of the average person to be 5 foot (factoring in children here as well), 2.3 feet in width, and 9 inches deep (these are fairly standard measurements and nothing over the top), but add 7 inches of sand/chlorine to be scattered in between each layer, but take off 10 inches of height (because the head and feet overlap) we get:
50 inches x 26 inches x 16 inches= 20800 inches, or 0.3408 cubic metres.
Now, looking at what Arad mentioned about the pits, we can multiple 50x25x9 (Arad mentioned the top layer is dirt only, so take off a metre) to get 11250 cubic metres per pit. Divide 11250 by 0.3408 (to see how many bodies each pit can hold), and we get 33010.
Treblinka shows 5 pits, however, the two on the left are smaller than the 3 of the right, so we'll combine those 2 and say they make up one full sized pit. So we have 4 full sized pits.
33010x4= 132040.
132040 is therefore the maximum number that could have possibly been buried in Treblinka. History would tell us it was 650000-700000, which as you can see, is quite obviously nothing more than a lie. You would need 21 burial pits to bury the 700000 number.
Even if we halved the "depth" of each person (i.e. removed the sand/chlorine layer), and so got a depth of 8 inches per person, you would still need 10.6 pits for Treblinka.
On page 173 of the same book (
Belzec, Sobibor, Treblinka)
) Arad writes:
"
During Himmlers' visit to the camp at the end of February/beginning of March 1943, he was surprised to find that in Treblinka the corpses of over 700000 Jews who had been killed there had not yet been crimated
".
This shows that there were 700000 bodies there, at the Treblinka site. (according to Arads and Himmler's claims anyway). Now, the only logical explanation is that 1) There was no mass killing on the scale as to what the Allies and the Jews said there was, or 2) The bodies were buried outside the camp.
Now, let's look at a couple of models of Treblinka (from [url]deathcamps.org[/url]):
The Laponder model: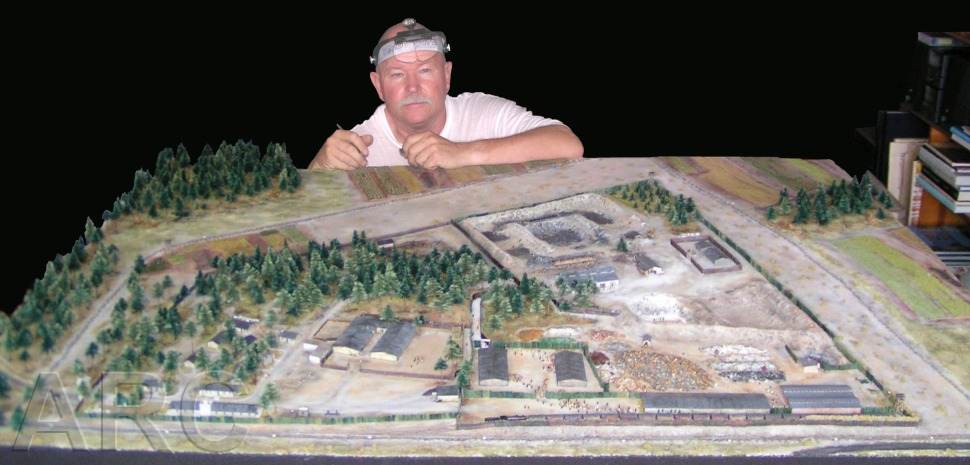 The Peters model:

It doesn't look like they have space for another 17 pits outside the camp, does it? Bearing in mind these pits are close to the size of olympic swimming pools, except much deeper. There is also no mention by Arad of bodies been buried outside the camps. Therefore, we return back to logical explanation 1)
Videos about the Reinhardt camps, and the inconsistancies of the Jewish/Allied claims can be found at
http://www.onethirdoftheholocaust.com
. While I would not go as far as to deny any were killed in the Reinhardt camps, I would say it is more along the lines of a few thousand, rather than 1.5 million.