nebelwerferXXX wrote:Summary of total Allied forces 1940 to 1945:
Tanks...210,950
Merchant shipping...44,431,300 tons
Warships...10,853,200 tons
Warplanes...582,500
Total Manpower...109,750,100

Summary of total Axis forces 1940 to 1945:
Tanks...50,400
Merchant shipping...3,792,000 tons
Warships...2,244,200 tons
Warplanes...174,200
Total manpower...61,160,400
Some errors here:
The figure for warplanes for the Allies is wrong. The Allies produced ca 400.000 combat aircraft during WW2 (the US made 190.000, USSR, 120.0000 and UK, 90.000). The allied figure is actually the Axis + Allied production.
The Axis figure probably includes production from Hungary, Italy and other minor producers as well, since German + Japanese production was ca 150.000.
The figures for warships are also strange, since the US produced 3.560.000 tons of combat naval vessels. However, you must be including the production of all categories of naval vessels, with bring the total output to 8.243.000 tons. Source: Wartime Production Achievements, p. 107.
The manpower figures are in terms of men years, or the sum of the numbers of the personnel employed by the armed forces for a given year. The Allies certainly mobilized more than 1,6 times the manpower than the Axis. The USSR alone mobilized 35 million men.
The only manpower comparison that I know of is from this site: (
http://users.erols.com/mwhite28/axis.htm
), with gives the following comparison: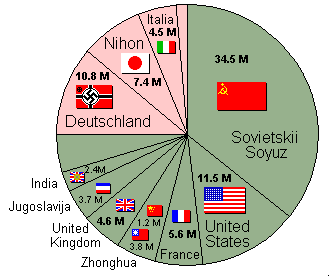 However, the only country with correct figures is the USSR. Germany actually mobilized 17,9 million men, the US mobilized 16,2 million, UK mobilized 9 million. But the proportions are quite right.