Guaporense wrote:
I adjusted the per capita incomes by the average amount of hours worked, the results are not substantially different for most cases but for US 1937 they show clearly the increase in US's labor productivity versus the UK even during the great depression. While for Germany vis UK they show a constant ratio of productivity from 1913 to 1937.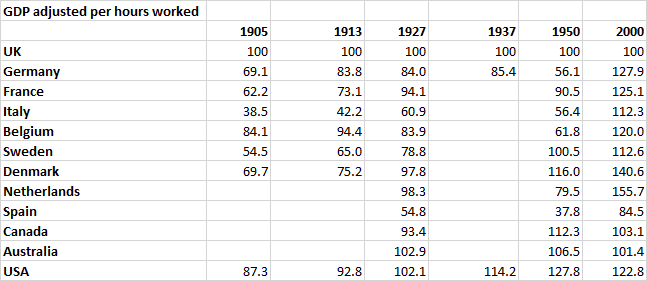 (using the Williamson's PPP benchmarks from 1905, 1927 and the 1937 estimates of PPPs for UK, US and Germany I did)
While GDP that was not-adjusted by the number of hours worked showed the US at a much smaller level relative to the UK and Germany in 1937-39 while if we adjusted by the number of hours worked it shows that US's productivity was increasing continuously relative to Germany and the UK since 1913. I also applied that methodology for the number of hours worked in 2000, it shows that UK lost it's productivity lead by a brutal degree over the 20th century: from the number 1 economy in the world to a productivity level below the average for developed countries. While the US and continental Europe converged in GDP adjusted by hours worked (in recent years the US's per capita income is higher than Europe's because they worked more hours: 1,878 hours in 2000 compared to 1,463 hours for Germany and 1,443 hours for France, productivity per hour is similar).
I also compared this methodology of estimating productivity with the GDP per hour worked figures from the OCDE:
The correlation was very high between the two sets of figures (although the implied productivities of Belgium and the Netherlands didn't fit well with the data).