My answer: Yes.
Long answer:
It's a complicated proposition.
In fact after reflecting on the subject at first I though it wasn't badly run, production of equipment was low in 1939-1941 because requirements were low: the German mindset is to produce only what you will need, not what you can. So if you can use captured French equipment you don't need German equipment. Output of equipment in 1939-1941 was low because there was no need to produce more: the army had enough guns, the guns had ammunition and ammunition consumption was very low.
This is an review of the USSBS report that explains the viewpoint that their war effort was not inefficient:
http://www.jstor.org/stable/1925424?seq
I quote here page 255: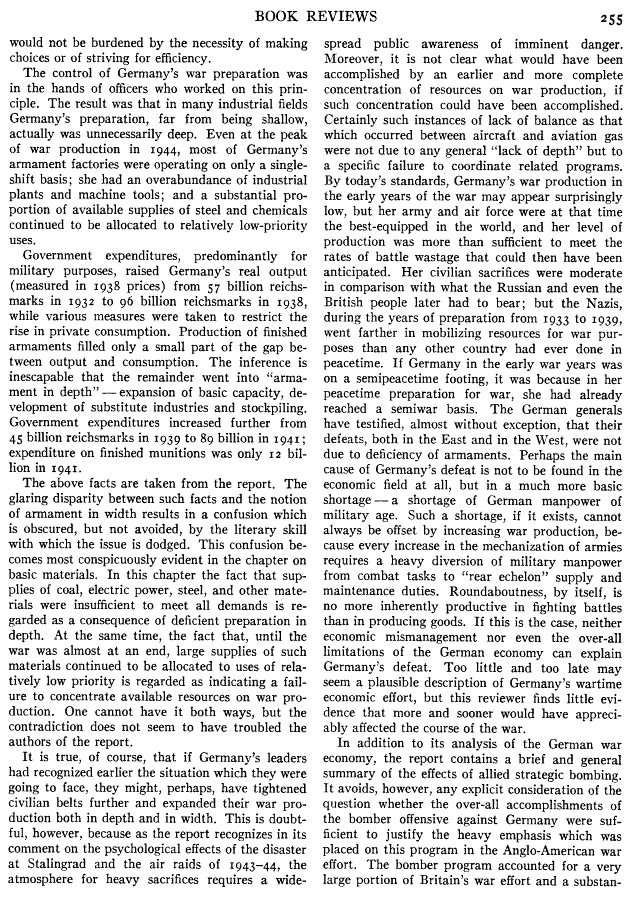 Better than Tooze's analysis by a mile. And that's just a review but it captures really well my general impression of the German war effort as well. Well, back in the 1940's scholar analysis of WW2 was superior than now, the reason is that back them it was a present event that many more people were interested in so the brightest minds of society were thinking about it, such as Emile Despres.
The argument is as follows: German output was low in 1939-1941, but during this period the Wehrmacht was the best equipped armed forces in the world and conquered territories with about 200 million inhabitants. Their officers also don't appear to complain about lack of weapons. Kesselring even said that his munitions supply in Italy in 43-44 was good in quantity and quality. Overall, the German war related industries did their job which was to allow the armed forces to be effective (and they were tremendously effective in 39-41). Increasing the output of tanks, for instance, wouldn't help them: more tanks in the army would be a hassle to do maintenance and would require more manpower to operate, weakening the manpower strength of combat formations. Also, the huge stocks of machine tools Germany had by the end of the war was because their military doctrine was to accumulate enough industrial capacity to allow the production of any munitions that could have been required by the armed forces, indeed, the output of munitions could be easily increased if required: fighter production went from less than 300 per month in early 1942 to 3,000 per month in the 3rd quarter of 1944, as result of the requirement of the Luftwaffe in maintaining air superiority, they failed to do so because they lacked the means to utilize these aircraft by that point (mid to late 1944).
But, however, I still would think that in some respect it's true their war effort might have been badly run: not in terms of equipment but in terms of ammunition supply.
If we look at the data we have:
German ammunition consumption Eastern front 1941-1944:
1941 ---- 571,663
1942 ---- 1,160,182
1943 ---- 1,838,750
1944 ---- 2,132,463
total: 5,703,058 tons
While in 1944 the total manpower in the Eastern front was ca. 2.2-2.5 million men, compared to ca. 3-2.8 million in 1941. That means that per capita monthly ammunition consumption was about 80 kg in 1944 but only 35 kg in 1941 and 1942. American ammo consumption in 44-45, is perhaps the "optimal" level to be compared with: more than what was consumed in the ETO in 44-45 by the Americans was simply waste of ammo, their consumption was ca. 1.47 million tons, or about 110 kg per soldier in the field army per month.
In WW1 the British army had a better supply of ammunition per capita than the German army in WW2: 5,269,302 tons of ammunition were delivered to the Western front in WW1, and were consumed over 50 months of operations (versus 42 months for the 5.7 million tons in the German army in the Eastern front in WW2) and the British army there was considerably smaller than the German army in the Eastern front in WW2. At about 90 divisions in the Western front (their army was ca. 100 divisions in WW1, the vast majority in the Western front), the British army would have a supply of ca. 150,000 tons per month during the peak of the war in 1917-1918 or about 100 kg per soldier per month in the front, assuming division field army slice of 16,000 - 17,000. Similar figure to American ammo consumption in WW2. While in WW1, French ammunition production was similar to the British Empire's at 280 million shells.
Therefore, we can conclude from the comparative evidence that German supply of ammunition was below optimal in 1941-44. So, could they produce more? Well, German ammunition production was quite elastic increasing 10 fold in the 30 months from late 41 to mid 44, from a low level of ca. 35,000 tons a month to peak level of 350,000 tons a month. And according to Speer, in mid 1944 the installed capacity of munitions industry was to produce 460,000 tons of ammunition per month (source: Germany and the Second World War volume 5b).
Ideally, with monthly supply of ca. 100 kg of ammunition per head, the German army should have consumed 1.8 million tons in 1941 and 3 million tons in 1944. While increasing the supply of ammunition has decreasing returns (Dupuy uses a quadratic function to measure the logistic impact of decreasing supply of ammunition), still tripling their availability of ammunition in 1941-42 would have helped the Wehrmacht significantly. Also, to produce 4.8 million tons of ammunition over 41-42 would require an output of 200,000 tons a month, far below their historical peak capacity of 460,000 in mid 1944. With adequate planning for the required ammo supply they could have continued to expand ammunition production from it's early peak in mid 1940: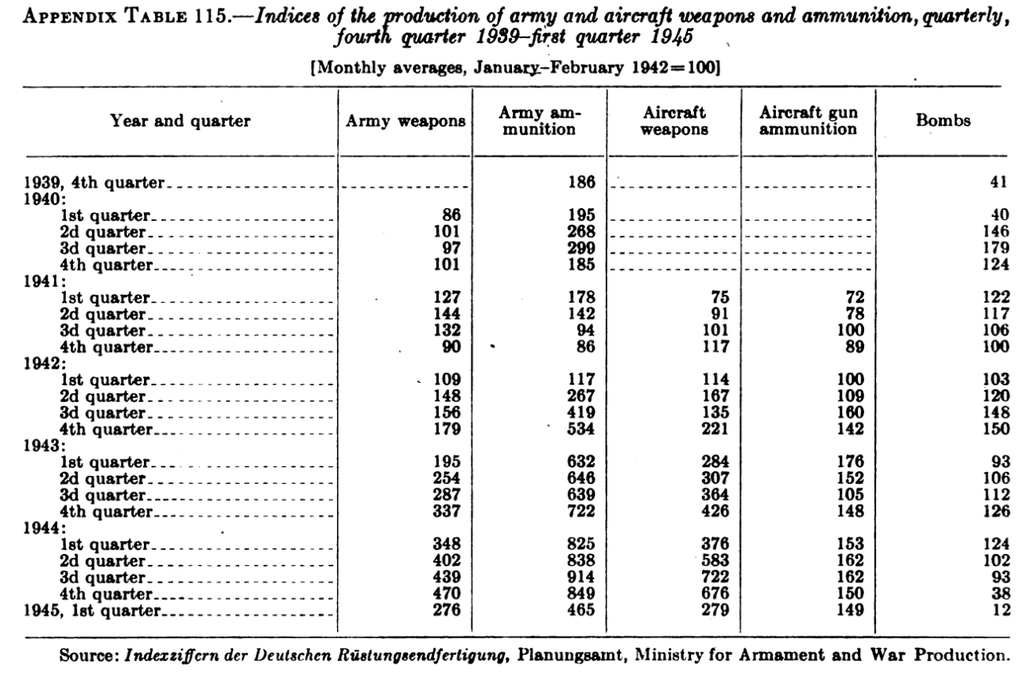 Army ammunition production could have reached 600 index by late 1941 instead of 1943 if they continued with the trajectory of the first 12 months of the war. However, after the Battle of France, it appeared to be obvious that the war was won (to Hitler's brain).
Therefore, I conclude that their war effort was not "optimal": in at least one aspect, ammunition supply, they could have done better. Although it's true that if one looks hard enough it's possible to find inefficiencies in all countries in all wars. For instance, the USSR probably produced more tanks than optimal, they could have focused their steel better in producing more ammunition instead. Although their lack of powder and explosives was a constraining factor. While in WW1, the most obvious case of inefficiency was the shell crisis of 1915 that most combatants faced: the UK, for example, produced ca. 2.2 million tons of ammunition in 1917 but in 1915 their output was so low their armed forces couldn't operate properly. That was a natural consequence of WW1 being the first total war when they mobilized millions of soldiers but lacked the preparations to supply them.