---
Hisname

Member
Posts: 125
Joined: 01 Sep 2018 15:48
Location: RF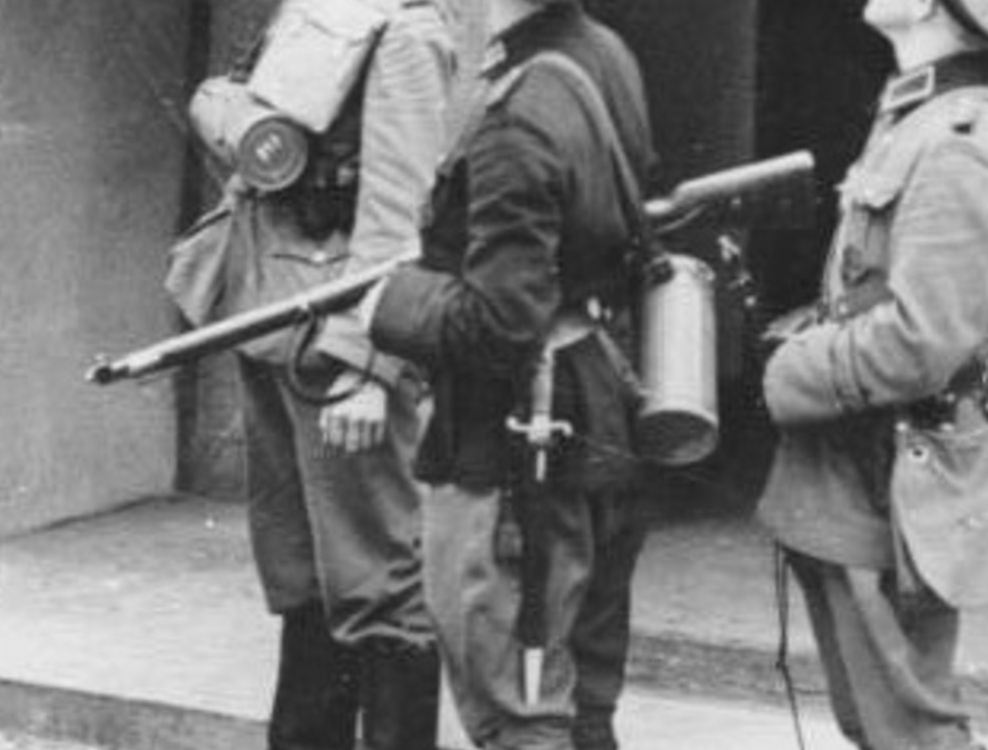 Kar. 98A ?
---
von thoma

Member
Posts: 4966
Joined: 10 Jul 2010 03:40
Location: Spain
Yes, Thank you !

And what about the long bayonet....
Was used with this Mauser carbine ? Or it's a German fireman's dress dagger model ?
" The right to believe is the right of those who don't know "
---
Hisname

Member
Posts: 125
Joined: 01 Sep 2018 15:48
Location: RF
I'm sorry, but I'm not an expert on melee weapons. I could be wrong. In my opinion, this is not a bayonet, this is a hunting dagger.
Approximately like these in the photo:
---
Richie B

Financial supporter
Posts: 227
Joined: 19 Jan 2008 20:30
Location: UK
I have also been interested in the edged weapon carried by the man in the centre. It certainly isn't a bayonet as correctly stated above. The only suggestion I have been given is that the man is some sort of Forestry Guard but I don't know enough about the uniform to confirm this.

It certainly bears a strong resemblance to the hunting weapons shown above.

If the uniform could be identified that might help.
---
Hisname

Member
Posts: 125
Joined: 01 Sep 2018 15:48
Location: RF
Yes, you are right, the form of the military in the center of the photo is very interesting and very different from the form of the ordinary German military.
I am not a specialist in military uniforms, I think that you are right. In my opinion, this is an employee of the military customs, border guards or military ranger (military huntsman, jaeger, gamekeeper). I apologize, I do not know English very well, it is difficult for me to find the right words.
---
Waleed Y. Majeed

Member
Posts: 3362
Joined: 13 Nov 2004 11:37
Location: Aarhus, Denmark
Very interesting picture. It must have been taken minutes before the famous picture of the soldiers opening and removing the gate. Some sources say it's the Zoppot-Gdingen street checkpoint in Danzig. See same building amd missing signs on these pictures.
https://ww2db.com/photo.php?list=sp&sp= ... age_id=500
Looking at all the pictures I could find of this event I could only find two men in similar uniforms. So probably as already mentioned some sort of border guards.
Waleed
---
Poot

Member
Posts: 438
Joined: 29 Dec 2010 03:38
Definitely a Kar.98, but with the stock modified to accept a bolt take down ferrule like a K98k rifle.
Pat
He who lives by the sword, should train with it frequently.
---