Commander in Chief of the Bolivian Army,Hans Kundt, has been described as the "defacto dictator of Bolivia" in the early stages of the Gran Chaco War(1932-1935).Due to his bloody frontal attack tactics and the defeats that the Bolivian army suffered,especially in 1933,Kundt was sacked in early 1934 and returned to Germany.
From what I can establish on this German 'advisor' to Latin American:
Born 1869 in Mecklenburg.
1888:Commissioned as Officer in German army.
1911:Major--commanded German Military Mission to Bolivia,consisting of 5 officers and 13 NCOs.
1914-18:-Major Kundt returned to Germany and commanded a German Regiment on the Russian Front.Promoted to Colonel,then Major-General at close of war.
1921-26:returned to Bolivia.Appointed Chief of Staff of Bolivian Army.
1927:Appointed Bolivian Minister of War.
1930:booted out of Bolivia because of political intrigue.Ended up in Chile as Staff Instructor for Chilean Army.Planned some aspects of the Chilean/Argentinian border fighting over Patagonia in that year.
1932:recalled to Bolivia at start of Gran Chaco War and appointed Commander in Chief,Bolivian Army.
1933:serious Bolivian reverse at Campo Via in December blamed on Kundt's poor generalship.
1934:Kundt sacked and returns home to Germany.
1939:died.
Has anyone got any details or photos of this gentleman?
This from the excellent Austro-Hungarian-army website,Kundt in WW1: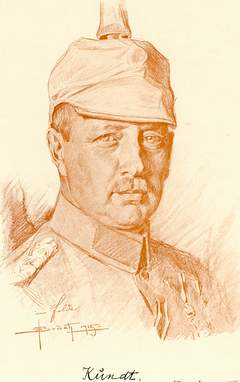 http://www.austro-hungarian-army.co.uk/bruch/kundt.jpg