The Aviator of Tsingtao
is a new version of Gunther Plüschow's classic account of his eventful part in World War I. Originally titled
Die Abenteuer des Fliegers von Tsingtau
and appearing in English translation as
My Escape from Donington Hall
, Plüschow's tale chronicles his time as the lone pilot in Imperial Germany's colony of Tsingtau (Tsingtao in the English of the time, now called Qingdao). After war was declared he flew reconnaissance sorties above the territory, patching up his barely-airworthy Rumpler Taube each evening and evading the superior Japanese biplanes by day.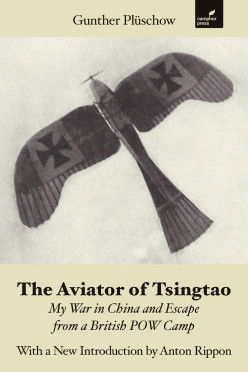 When the colony was about to fall he was ordered to keep the Taube out of Japanese hands and flew it to neutral China, where he crash-landed. An epic journey followed across China, the Pacific, the continental United States, and the Atlantic, before his capture by British authorities in Gibraltar. Transported to Britain and interned in the Donington Hall POW camp, Plüschow (who knew England well) became the only German in either World War to escape from Britain and make it all the way back to Germany.
This latest version features new photos, maps, and a new introduction by journalist Anton Rippon, the author of
Gunther Plüschow: Airmen, Escaper and Explorer
, the standard English-language biography on this remarkable man. The e-book is available from
our website
or
from Amazon
, with an introductory price of $1.99 until mid-April.