As it was promised here are the data about the losses from the book
P.F.Gladkih, A.E. Loktev "The Health Service in Great Partiotic War 1941-1945"
The monthly breakdown of losses 1942-1944: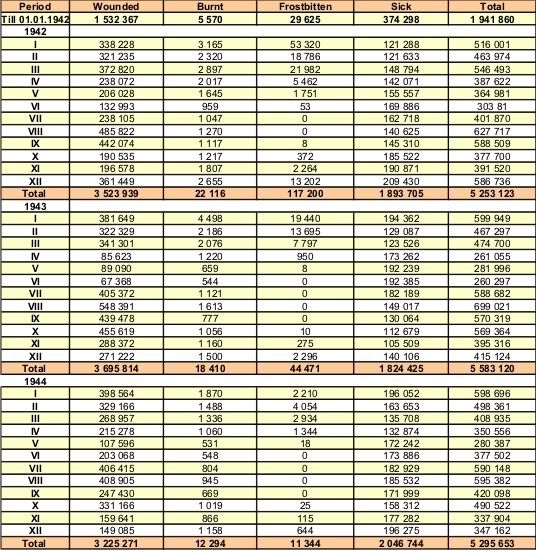 The reference is given to TsAMO, f. 8, op. 17492, d. 345, l. 232-233. The tables include losses suffered by Soviet Active Fronts only.
The breakdown of sanitary losses by months and fronts :
With reference to TsAMO, f. 8, op. 11624, d. 345, l. 73-85, 193-193
SMA = Separate Maritime Army, 7th SA = 7th Separate Army
May figures for 2nd Bellorussian Front are given for the period 1st-10th May
April figures for SMA - for the period 1st-20th April
The Total figure of sick for the West Front given in the table is slightly different from the sum of the month's figures
Pay attention that there is some difference between to tables in regard to the losses in 1944. Also it should be emphasized that the losses figures differ very significantly from the known Krivosheev's data. However at any rate the tables could be useful as showing the general trends.