seljuk

Member
Posts: 45
Joined: 01 Sep 2005 17:49
Location: istanbul
last heros...
three soldier..
Veysel Turan
Ömer Küyük
Yakup Satar
http://www.hurriyetim.com.tr/haber/0,,s ... 098,00.asp
---
Tolga Alkan

Financial supporter
Posts: 1893
Joined: 10 Mar 2002 16:00
Location: Turkey
---
Peter H

Member
Posts: 28628
Joined: 30 Dec 2002 13:18
Location: Australia
---
Peter H

Member
Posts: 28628
Joined: 30 Dec 2002 13:18
Location: Australia
---
Mehmet Fatih

Member
Posts: 832
Joined: 29 Jul 2004 14:11
Location: Ankara/Turkiye
Peter H wrote:According to Australian sources Heseyin Kacmaz was the last Turkish Gallipoli veteran.He died in 1994.
He also fought in Turkish War of Independence.
His statue with his grand daughter stands in 57th Regiment cemetary.
You do not have the required permissions to view the files attached to this post.
---
Peter H

Member
Posts: 28628
Joined: 30 Dec 2002 13:18
Location: Australia
Yakup Satar is still alive:
http://en.wikipedia.org/wiki/Yakup_Satar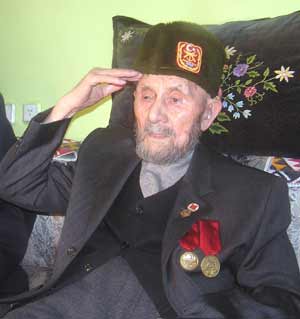 http://www.kenthaber.com/Resimler/2005/03/18/v09.jpg
http://dersdesders.free.fr/bio_veterans/satar.html
Yakup SATAR, 109 ans, ultime vétéran de l'Empire Ottoman,
et dernier survivant turc de la Première Guerre mondiale

Il est le dernier vétéran de l'Empire Ottoman et l'ultime survivant turc de la Première Guerre mondiale. Yakup SATAR est né le 11 mars 1898 en Crimée. Son père, Zeki Bey, fut un des chefs tartares qui combattit pour l'indépendance turque contre la Russie. Yakup s'engage dans l'armée turque ottomane en 1915. Après une période de formation militaire à Istanbul, des officiers allemands le sélectionnent (avec 200 de ses compatriotes) pour suivre un entraînement spécifique. Le 20 octobre 2003, Yakup Satar confiait à un journaliste du quotidien turque "Hürriyet" : <<Nous portions des uniformes particuliers. Les allemands nous fournirent des masques. Nous plaisantions souvent entre nous à cause des masques que nous portions sur nos visages. Plus tard, nous apprenions que notre compagnie était surnommée "gazcilar", les "soldats du gaz". Les Allemands nous ordonnèrent de lancer des gaz sur l'ennemi. Ils nous avertirent qu'il fallait alors maintenir la bouche fermée. Nous ne pouvions même pas parler de notre entraînement si particulier à nos familles dans nos lettres. Après cette phase d'entraînement, 50 d'entre-nous furent envoyés sur le front de Bagdad dans un train spécial constitué de nombreuses troupes militaires>>. Yakup Satar ne connaissait pas la destination d'arrivée. Le vieil homme reprend : <<Après un long voyage nous arrivâmes à Bagdad. Nous stationnions dans des tentes, en plein désert. Nous dûmes attendre des équipements durant un mois. Nous n'étions pas autorisés à parler avec d'autres soldats. Six mois plus tard, nous recevions les ordres d'Istanbul : "notre troupe avait interdiction d'utiliser les gaz." >> Au même moment les troupes britanniques atteignaient Bassora. Le soldat d'infanterie Yakup Satar aurait été fait prisonnier lors de la 2ème bataille de Kut-el-Amara le 23 février 1917 sur le front de Bagdad par les forces anglo-indiennes.
Il rejoind les forces nationales de Mustafa Kemal durant la guerre d'indépendance turque (de 1919 à 1922). Il quitte l'armée comme sergent chef.
Véritable héros national, il vit aujourd'hui à Eskisehir en Turquie. A ce jour, il est un des 14 derniers vétérans au monde à avoir connu les combats de la Première Guerre mondiale.
---