Befehl227

Member
Posts: 303
Joined: 28 Apr 2006 20:25
Location: Germany
Described as: captured soviet general with his wife at Kiev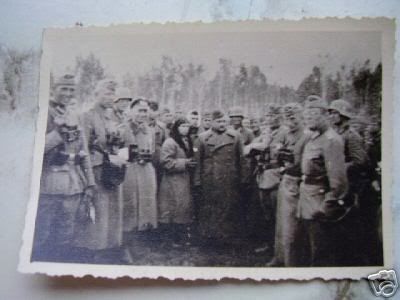 [Source: eBay Item number: 260199130754]
---
GeorGGe

Member
Posts: 53
Joined: 02 Mar 2006 22:33
Location: St.Petersburg, Russia
---
Steen Ammentorp

Member
Posts: 3267
Joined: 13 Mar 2002 12:48
Location: Denmark
---
Befehl227

Member
Posts: 303
Joined: 28 Apr 2006 20:25
Location: Germany
---
Steen Ammentorp

Member
Posts: 3267
Joined: 13 Mar 2002 12:48
Location: Denmark
The question is whether it is his wife. A.A. Maslov in his book 'Captured Soviet Generals: The Fate of Soviet Generals Captured in Combat 1941-45' cites the report of a Colonel Nikitin (Chief of Operations of XXIX Rifle Corps at the time of Artemenko's capture):
He [Artemenko/Steen] surrendered to the fascists and was taken prisoner with a group of commanders and soldiers on the 26th September 1941. The group consisted of the following people: Artemenko's son Mikhail (his adjutant), Major Terpugov (the former Chief of Corps Logistics), Senior Political Voronin (former Deputy Military Commissar), 'Sister' Tamara (last name unknown), who always rode with the general, four Red Army drivers, and three of his security personnel. According to these cowards and traitors, the reason for their surrender was the uselessness of sacrificing themselves and suffering further hardships - since the situation was hopeless their surrender guaranteed them their lives
See this
book
page 118
Naturally it would be interesting to know who this "Sister" Tamara is and why the "" appears.
Same story is btw. repeated in: Velikaya Otechestvennaya Komkory : Voennyi Biograficheskiy Slovar'. Tom I-II.
See
page 50.
Sadly I have no knowledge of either the fate of the generals son nor "sister" Tamara.
Kind Regards
Steen Ammentorp
The Generals of World War II
---
Befehl227

Member
Posts: 303
Joined: 28 Apr 2006 20:25
Location: Germany
---
Lornito Uriarte Mahinay Jr.

Member
Posts: 652
Joined: 24 Nov 2006 02:26
Location: Cotabato City, Philippines
---
Michael Emrys

Member
Posts: 6002
Joined: 13 Jan 2005 18:44
Location: USA
---
Lornito Uriarte Mahinay Jr.

Member
Posts: 652
Joined: 24 Nov 2006 02:26
Location: Cotabato City, Philippines
---