http://en.wikipedia.org/wiki/Bin_Uehara
Bin Uehara (上原 敏 ,Uehara Bin, August 26, 1908 – July 29, 1944) was a Japanese ryūkōka singer and soldier. He was known for using naniwa-bushi's kobushi vocalism in Japanese popular music scene, but was killed in the New Guinea campaign.

Uehara was born as Rikiji Matsumoto in Ōdate, Akita Prefecture, Japan. He made his professional debut in 1936. His famous songs included the 1937 song "Ruten" (流転 ,lit. "Stream-rolling"?). However, he took part in the war as a soldier in 1943.He went to New Guinea and was killed in the battle in July 29, 1944.

His vocalism called kobushi became popular as the more emphatic form among modern enka singers.
http://www.tokyo-asakusa.com/images/uehara.jpg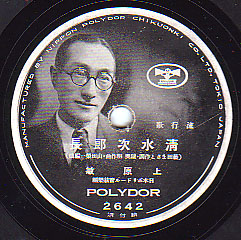 http://i.ytimg.com/vi/ucbK80SC7b8/0.jpg