I'm new at this (even though I've been reading loads of your stuff) so I do hope that Iput my first article in the right category... Any other info on other holdouts is very much welcomed!
So you thought the German Army called it quits on May 7 1945?
Well, they did. On orders of Groszadmiral Dönitz -Führer ad-interim after Hitler's suicide on April 30 in his damp bunker in Berlin- the German High Command signed the unconditional surrender of the German armed forces in Rheims, a performance which was to be repeated a few days later in Berlin in order to placate Sovjet sensitivities. But of course there's a bit more to it than that.
Go West
At that point, the overal majority of Wehrmacht, Waffen-SS and Volkssturm (sort of a German Home Guard filled with the elderly, infirm and other dredges of their barrel of manpower) had already surrendered -and eagerly so- as had most of the armies of Axis states such as Italy and Hungary. To the Western Allies that is. The German army and its affiliates were fairly sure they'd get fair treatment as POW's there, but they were absolutely terrified of what would happen to them if they surrendered to the Red Army. And not without reason because after 4 years of German racist warfare and scorched earth policy on the Eastern Front -resulting in millions of deaths- the average Red Army soldier had several family members to mourn, which in turn led him to leave his sense of pity behind somewhere between Moscow and Berlin.
So it doesn't come as a surprise that in the East, German commanders often refused to comply to the terms of surrender and continued to fight on desperately in order to get their troops to the West where they could surrender to the American or the British army, rather than to the Russians (they were well aware of the Yalta agreements which stipulated Allied and Russian occupation zones). . So after May 7, bitter fighting continued to rage on the Eastern front, notably in Czechoslovakia (even though the dreaded Fieldmarshal "No Surrender" Schörner dressed up in Bavarian costume and took off to the Alps in an aircraft) and against Tito's partisans in Yugoslavia, where the last major battle of WWII in Europe took place in the third week of May. In the end, those soldiers who were to make it across the demarcation line were likely to be dissapointed. The Western Allies often handed them over to the Russians as they had been primarily fighting against the Red Army. They did the same thing with German-enlisted Cossacks, White Russians and other anti-Sovjet minority groups, most of whom would perish in the Gulag - if they weren't shot outright that is.
German POWs in the Gulag.
As seen, the German didn't have to fear retribution on that scale by the hands of the Western Allies, even though German POWs were sometimes treated harshly (notably by the French) due to a mixture of inadequate resources to feed millions upon millions of German dependents (about 5 million civilians fled West as well) and the recent discovery of the concentration camps, which obviously caused considerable Allied resentment -not to say hatred- towards their captives. But all in all, POWs considered themselves lucky to be on the 'right' side of the Elbe river and therefore the German Army mostly surrendered quickly in the West, forfeiting the last-ditch battles their ranting Führer demanded - and who was now dead anyway. The Nazi's did try to establish a German partisan movement called Werwolf but it didn't amount to much. Notable exceptions were a few ambushes by fanatic youngsters -former Hitlerjugend who couldn't imagine a world without nazism- which continued up to the late 40s.
First in, last out
Still, there were a few German 'holdouts' in the West left after the unconditional surrender. But contrary to their Japanese equivalents -mainly islands by-passed by the Allies as they posed no threat but whose garrisons continued to fight on for as long as they possibly could (the last Japanese soldier surrendered in the 80s)- those weren't exactly hardcore Nazi bastions. Someone had simply forgotten about them.
The Channel Islands were the only part of Britain ever to be occupied by the Germans. Ironically, it was also the last bit of Allied territory to be liberated. During D-day and its aftermath Jersey, Alderney, Guernsey and so on were equally by-passed by the invasion fleet since they were (not unlike those Japanese-held islands) heavily defended as well as fairly useless to the Allies in terms of strategy. So why suffer heavy losses trying to capture it? After the terms of the German unconditional surrender came into effect, those islands were -as well as a few French ports still held by the Werhmacht- swiftly handed over to the Allies. Well, most of them anyway. Alderney didn't 'give up' until May 16 and then there was the tiny Channel Island of Minquiers, on which a few German troops still resided and much against their liking too. A French fishing boat, skippered by Lucian Marie, unwittingly approached the island and anchored nearby. Suddenly, a fully armed German soldier approached -at which point the French must have done a bit of cowering. But instead, the soldier asked for help: "We've been forgotten by the British, perhaps no one in Jersey told them we were here, I want you to take us over to England, we want to surrender". This was on the 23rd of May, 1945. So three weeks after the war ended, those Germans finally gave themselves up and they were very happy to do so indeed.
The gun no one wanted
But they weren't the last of the fair-headed Mohicans, oh no. There were still a few Wehrmacht soldiers out there and they were truly forgotten. Which in turn wasn't much of a surprise as they were almost literally posted at the end of the world. In September 1944, operation 'Haudegen' came into swing. The German army always needed far-flung weather stations in order to anticipate meteorological conditions for their military planning (at some point they even tried putting up stations in Canada and Greenland) and Haudegen was part of of this intelligence-gathering effort. In fact, it was a crucial mission as the hand-picked team of eleven soldiers was sent to Svalbard -on the icy, wind-swept Artic island of Spitsbergen- in order to send weather forecasts back to Germany so that Hitler could prepare for 'Wacht Am Rhein'. This operation -which would soon been wrecking havoc in the Ardennes- heavily depended on clouded skies in order to counter the Allied supremacy in the air and Hitler depended on this handful of soldiers to provide him with accurate information.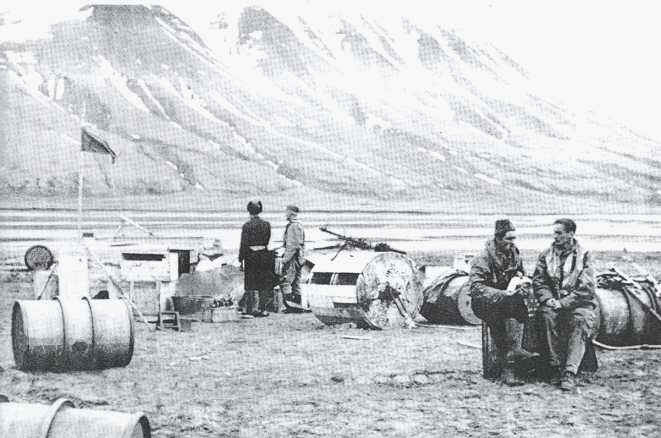 Operation 'Haudegen'
This they did, as can be deduced from the considerable success the German divisions enjoyed during the first days of the Battle of the Bulge, which -again ironically- only speeded the demise of the Third Reich. However, for those soldiers of 'Haudegen', sending out a daily weather forceast from Spitsbergen was but one of the issues at hand. They had to contend with the freezing cold, fight off attacks by ice bears (on one occasion nursing the cubs of a bear they'd shot), stave away boredom (their leader -who was a professor- engaged them in courses on a variety of subjects) and keeping contact with the world out there. The latter proved to be a major problem because -apart from poor transmitting conditions in Svalbard- the entire communication apparatus of the German army was fast falling apart from the seams. On May 8 their superiors in Norway told them that the war was over, but that was the last mesage they ever received. Being stranded on the island with nothing but a rowing boat, they kept on broadcasting weather forecasts (albeit uncoded, presuming that a world at peace also needs to know from which way the wind blows) and eventually tried Allied distress channels. But no replies were forthcoming until finally, in September, a Norwegian seal-hunting vessel anchored at Svalbard. The captain invited the Germans over for a hearty meal (which they must surely have enjoyed after living on canned goods for over a year) but then "we had this situation where no one seemed too sure what to do". Finally, the German commander said "I suppose we should surrender now", took out his pistol and placed it on the table in front of the ship's captain. The Norwegian stared at it and asked "can I keep this then?". He could and this made the eleven soldiers of Operation 'Haudegen' the last German troops to surrender -in somewhat surreal circumstances- on September 4 1945, three months after the war ended in Europe.
And then some
Finally we could -and really should- go back to the East. Because even though by now all German army formations had surrendered, some people who collaborated militarily with the nazi's to further their own nationalist goals, still refused to give up. Notably in Rumania, Ukraine and Estonia (the 'Forest Brothers') "bands of bandits" (as they were termed by the Communists) continued their struggle, often incurring considerably losses on the Red Army and not without some help of the CIA, until the early 60s. It has often been claimed that several German soldiers were part of those groups, including at least one former, highly-decorated Wehrmacht sharpshooter who was in turn enlisted in the Russian military. But that's another story altogether...