You mean this one (from
http://www.auschwitz.dk/holocaust2.htm
)?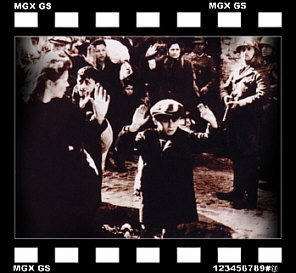 The page linked above says this:
More than any other photos, this famous photograph captures the essence of the horrors of Holocaust: Warsaw 1943, a little Jewish boy, dressed in short trousers and a cap, raises his arms in surrender with lowered eyes, as a Nazi soldier trains his machine gun on him [...]

But after several decades the boy was found - Tsvi C. Nussbaum, a physician living in Rockland County in upstate New York, USA, was the then seven-year old little boy. He told how he and his aunt were arrested in front of a Warsaw hotel, where Jews with foreign passports had gathered to find a way to escape Poland. He remembered the date, July 13, 1943, and how he was told to put his hands up: I remember there was a soldier in front of me, he told the newspaper, recalling the picture, and he ordered me to raise my hands.