This is a summary of my postings about this topic at RODOH.
"Revisionist" John Ball claimed that aerial photographs established that there was no Babij Jar massacre. Here's a section from his book
Air Photo Evidence
(with some comments):
http://www.vho.org/aaargh/fran/techniques/Ballbook.html
CHAPTER 10

BABI YAR MASS EXECUTIONS - 1943

ALLEGATIONS ARE THAT 33,771 CORPSES WERE BURNED IN BABI YAR RAVINE

[SR: Wrong! About 100,000 corpses or, likely, even more were buried and burned there, according to Sonderkommandos who burned the bodies. I'm not sure at the moment if there were more Jews than gentiles, but that's not too important. 33,771 Jews were shot on 29 and 30 Sept., but the murders - both of remaining Jews and of many gentiles - continued for two years.]

In 1941 the babi Yar ravines were a series of dried up stream drainage channels that once drained into the Dnieper River in northwest Kiev in the Ukraine region of the Soviet Union. The upper channels had flat bottoms.

It is alleged that in 1941 on September 28th and 29th, 33,771 Jewish people from Kiev reported as ordered to the end of Melnik Street where the Jewish cemetery meets Babi Yar ravine. There they were marched in small groups to the edge of the ravine and machine gunned by Waffen-SS soldiers.

In 1943 from August 18th to September 19th, 327 workers lived in the ravine while digging up the 33,000 corpses and burning them on railroad ties doused with gasoline.

[SR: Here's an important detail: workers lived there till Sept. 29th, not 19th. It seems to be Encyclopedia's error, but Ball should have known better. Was this Encyclopedia his only source?!]

During the 1970's fill was plowed into the ravine and today there are no photos or other evidence of the crimes other than eye-witness accounts.(Ref.: _Encyclopedia of the Holocaust_, pages 113-115.)

[SR: Wrong! Einsatzgruppen reports and some other documents mention it.]

[Regarding image file 106.GIF:]

The Kiev archives released this hazy picture in 1990 as the best known photo of the Babi Yar dried up stream channel. The victims allegedly fell in the ravine and were buried after being shot, and then two years later were dug up and burned. It is not known if any roads went down the steep walls to the flat bottom. (Ref.: Wolski, M., _Fact Sheet on the 50th Anniversary of the Babi Yar Massacre, October, 1991_)

[Regarding image file 107.GIF:]

SEPTEMBER 26th, 1943: This photo was taken one week after the end of the supposed mass cremations in the ravine. If 33,000 people were exhumed and burned, evidence of vehicle and foot traffic to supply fuel should be evident in the area where the Jewish cemetery meets Babi Yar ravine, however there is no evidence of traffic either on the end of the narrow road that proceeds to the ravine from the end of Melnik Street, or on the grass and shrubbery within or on the sides of the cemetery. [Labelled: Location of alleged shootings and cremations at edge of Jewish cemetery at Babi Yar ravine, Babi Yar ravine, orthodox cemetery,Jewish cemetery, and Melnik Street.] [Ref.: GX 3938 SG, exp. 104 & 105]

[Regarding image file 108.GIF:]

SEPTEMBER 26th, 1943: An enlargement reveals no evidence that 325 people were working in the ravine finishing the cremation of 33,000 bodies just one week earlier, for many truckloads of fuel would have had to be brought in, and there are no scars from vehicle traffic either on the grass and shrubs at the side of the Jewish cemetery or in the ravine where the bodies were supposedly burned. [Ref.: GX 3938 SG, exp. 105]

1943 AIR PHOTOS OF BABI YAR RAVINE AND THE ADJOINING JEWISH CEMETERY IN KIEV REVEAL THAT NEITHER THE SOIL NOR THE VEGETATION IS DISTURBED AS WOULD BE EXPECTED IF MATERIALS AND FUEL HAD BEEN TRANSPORTED ONE WEEK EARLIER TO HUNDREDS OF WORKERS WHO HAD DUG UP AND BURNED TENS OF THOUSANDS OF BODIES IN ONE MONTH.
Here's the picture from Ball's site with his comments:
1. Outer edge of winding Babi Yar ravine that was most likely a small stream that had produced the ravine over thousands of years.

2. V-shaped bottom of the ravine. Working with horses and trucks to bury, exhume, and cremate thousands of corpses would have created scars that were extemely visible in air photos.

8. Location on ravine floor where 64,000 bodies were alleged to have been exhumed and cremated 5 weeks prior to the Sept. 26, '44 air photos, had sparsely scattered vegetation and completely undisturbed soil, and there is not scarring on the ground visible in air photos from bulldozer excavations, or movements of trucks or horses, that would have been needed to transport thousands of 36 kilogram (80 pound) railway ties necessary to burn 1,600 bodies over open fires every day for 5 weeks.Reference: 7, pages 132-135.

9. No scars from roads or horse trails exist on the ravine walls.

11. No vehicle tracks or horse trails exist from Melnik Street into the ravine.
Here's the photo from Ball's later article with my markings: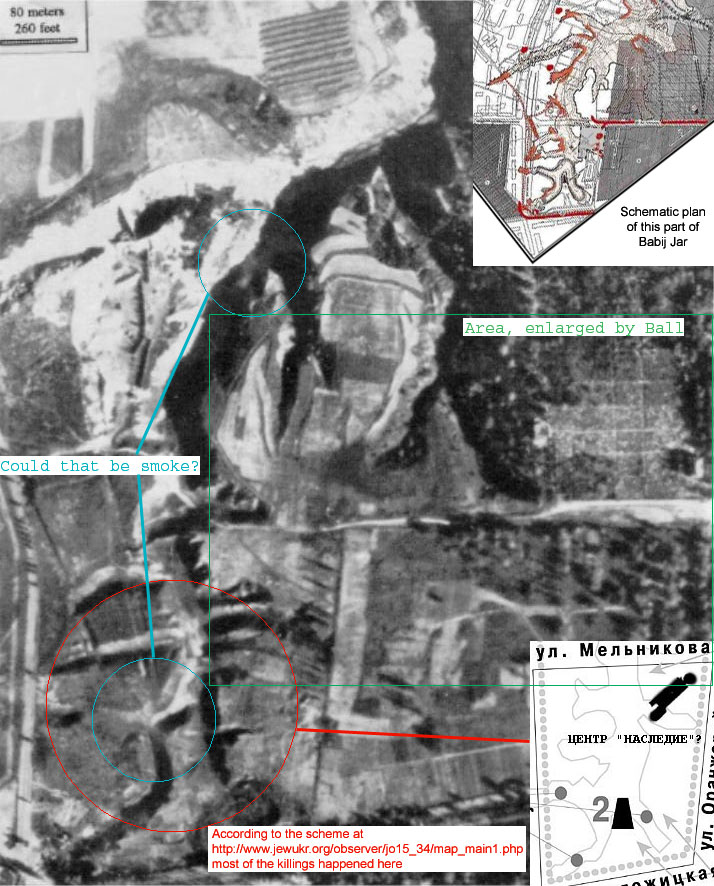 The immediate conclusions are as follows:
1)
Ball analyzed the wrong area.
This alone makes his "analysis" worthless. I have outlined the area where most people were shot with the red circle.
2) Of course, people were killed not only at this spot. They were killed and buried in many parts of the ravine, upper part too. It is logical to assume that when Aktion 1005 began in August 1943, it started within the red circle - in the place where most bodies lied.
The photo was taken on 26 September, 2-3 days before the escape of the prisoners. By that time they would have burned most, if not all bodies "within the red circle", therefore we shouldn't expect to find much traces there (although we might find something).
Likely, they would have been in other parts of the ravine. Yet, as we can see, most parts of it are covered by shadows. Of course, there still might be some visible traces of activity (although not necessarily). E.g. there might be smoke on the photo.
That most, if not all bodies were already burned by 25-26 September is confirmed by the testimony of Vladimir Davydov, which is quoted in Graf & Mattogno's book on Treblinka:
On September 25 and 26, when the work was nearly finished, the construction of another oven was ordered, upon which we ourselves were supposed to be cremated. We deduced this from the fact that there were no more corpses in Babi Yar, but we had built an oven evertheless.
Therefore it is not necessary that we should see the smoke on aerial photo. But since the dates are not exact, we might indeed see some smoke. Expert analysis is needed.
Here are four aerial photos of Babij Jar from USHMM:
Look at the photo with my markings, which I posted earlier, note the upper circle ("Could that be smoke?"). Now please look at the same area in these photos. Of course, that might be wishful thinking on my part, but this could be smoke and fire.
Any comments are welcome.